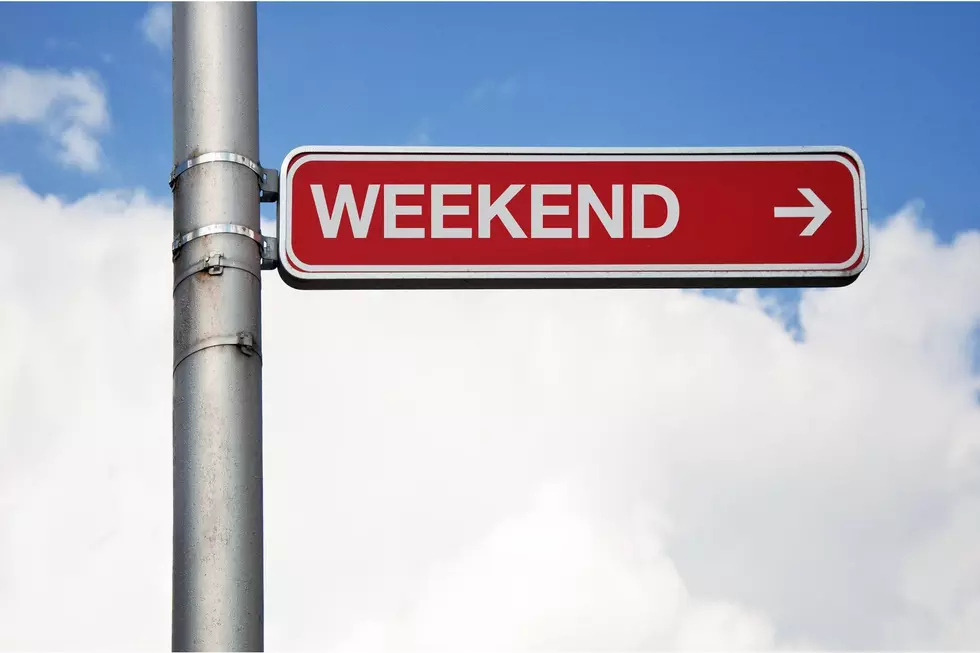 12 Events to Enjoy this Loaded Weekend in the Magic Valley
Credit: stevanovicigor
March is now in full swing and the weather will hopefully begin to recognize it. It is possible we could see the 50s this weekend, and that means it is time to wake up from the winter, snow, and gloomy slumber and get on out to enjoy some fun events in the Magic Valley. This weekend is packed full of events and activities to get you out of the house, and there is no reason to stay inside. Have fun, get out, and attend one of these many events this weekend in Twin Falls and around the Magic Valley.
Thursday, March 9 - Vote for Rogue
A service dog in Twin Falls once again needs help from the community. Rogue is a service dog that is looking to get featured in 'Dogster' magazine, but she needs help and needs your vote. If you click on this link, it will take you to the site to vote, and voting closes tonight, so hurry to vote for her and let's help her move on to the next round. If you want to learn more about Rogue, you can click on her name above. Start the weekend off right, by helping this local service dog get recognized for all that she does.
Thursday, March 9 through Monday, March 13 - 'The Music Man'
With the weather being so unpredictable, it may be best to do an event indoors, and what better way to enjoy a weekend than to get lost in a musical? The classic musical 'The Music Man' will be performed this weekend at the Orpheum Theatre in Twin Falls. There will be shows taking place Thursday through Saturday and a show on Monday as well. All shows this weekend will be at 7 PM, and tickets start at just $17.50. For more details on the show click on the link above, and book your tickets today to enjoy 'The Music Man.'
Thursday, March 9, and Possibly Friday, March 10 - CSI Women's Basketball
The CSI Women's basketball team will take their home court once again tonight for the Region 18 Tournament. The women won the regular season conference title, are 27-2 on the season, are 15-0 at home this season, on a 15-game winning streak, and ranked number four in the NJCAA polls. The women will tip-off tonight against Snow College at 7:30 PM, and tickets are different for the tournament than they are for the regular season. To get your tickets make sure to click this link. If the women win tonight, they will move on to play in the championship game on Friday at 6 PM. Go on out and cheer on the lady Golden Eagles. 
Friday, March 10 &Saturday, March 11 - Wedding and Prom Dress Pop-Up Event
For those that are looking to get married this year and still are searching for the perfect dress, or perhaps you are on a budget, then you will want to attend the Wedding and Prom Dress Pop-Up Event this weekend. If you need to find a prom dress for your daughter, this is the place to go. There will be over 700 dresses, and they start as low as $50. The event takes place at the Best Western Plus Burley Inn & Convention Center in Burley and will be happening on Friday and Saturday from 12 PM to 6 PM on both days. For more details on the event, make sure to click on the link above. 
Friday, March 10, and Saturday, March 11 - CSI Rodeo
For all the rodeo lovers out there, do not miss the CSI rodeo taking place this weekend at the CSI Expo Center. You can win free tickets to the event by clicking the link above, but if you are unable to win them, you can purchase them for $12 in advance and $15 at the door, with children 6 to 12 being $5 in advance and $8 at the door. The rodeo will be taking place on Friday and Saturday, with doors opening at 5:30 PM and the rodeo beginning at 7 PM. For more details and a chance to win free tickets, click the link.
Friday, March 10 - Kevin Ahfat and Juliette Herlin Concert
If you enjoy classical music, make sure to attend the concert this weekend at the CSI Fine Arts Theater. In line with CSI's Piano Celebration Series, pianist Kevin Ahfrat and cellist Juliette Herlin will be performing a concert this Friday. The concert will feature scenes from many genres. The concert begins at 7:30 PM and tickets are $10 for adults, $8 for seniors, and $6 for students. For more on the concert, details on the musicians, and what to expect, make sure to click the link above. 
Saturday, March 11 - Gardening Always in Style
While the snow has been sticking around the last couple of weeks, spring is right around the corner, which means gardening season is fast approaching. If you are somebody that is looking to start gardening for the first time this year, or have done it a little in the past, or perhaps you have gardened for years but want to learn new things, then make sure to attend the biannual Gardening Always in Style event this weekend in Burley, located at Morey's Steakhouse at 219 East 3rd Street North. The event is $45 per person and will take place from 8:30 AM to 3 PM. Lunch will be provided, and you will learn about fruit tree care, garden planning, water conservation, native plants, pollinators, and integrated pest management. Head out to Burley this weekend and learn new techniques to help your garden thrive this year. 
Saturday, March 11 - Spring Mini-Cassia Craft Fair
While the weather may be misleading right now, spring is around the corner, which means soon it will be time to pull out the spring decorations, or perhaps you are looking to buy some new ones. The annual Spring Mini-Cassia Craft Fair is taking place this weekend, and it is the perfect place to find all things Spring. The event will be in Burley at the Oregon Trail Recreation Center, located at 1750 Park Ave. The fair will take place from 9 AM until 4 PM and will have decorations, perfect gifts for loved ones, homemade body care products, treats to pamper yourself with and so much more. Head on out to Burley to see what you can find, as there will be over 100 vendors this year. Click the link above for more details. 
Saturday, March 11 and Sunday, March 12 - Magic Valley Gem Show
The Magic Valley Gem Show is back this weekend and will be taking place on Saturday, March 11, and Sunday, March 12 at the Twin Falls County Fairgrounds, located in Filer. The show will be open from 10 AM until 5 PM on Saturday, and from 10 AM until 4 PM on Sunday. Admission is $2 per person, with children 12 and under being free. The show will be put on by the Magic Valley Gem Club, which you can join by filling out a form by clicking this link.
Saturday, March 11 - Comedy Tour Featuring Jeff Leeson
With the gloominess looming the last couple of weeks, everybody could use a pick me up, and what better way than attending a comedy show? Jeff Leeson will be performing this Saturday at the Historic Wilson Theater in Rupert, and the show will be taking place at 7:30 PM. Tickets are just $25, but they are going fast so do not hesitate to get yours. Leeson is a well-known comedian that has multiple comedy specials, including his newest one on Youtube, 'Sorry I'm Not Kevin Hart.' Don't miss your chance to laugh and forget about life for a bit while enjoying Jeff Leeson live this weekend. Click the link above to book your tickets today. 
Sunday, March 12 - Daylight Savings Time
Don't forget this weekend is daylight savings time. Make sure to move all of your clocks forward one hour by 2 AM on Sunday. Unfortunately, this means all of us will be cranky on Sunday from losing an hour of sleep and could make your coworkers grumpy on Monday. Change your clocks and don't forget or you may be late for church.
Tuesday, March 14 - Heath Harmison
It may be a couple of days after the weekend, but we will include this event. Heath Harmison will be performing in Twin Falls this Tuesday for a charity event. The proceeds for the event will go towards Magic Valley Baseball and Softball. Harmison will have two shows that night, with a family-friendly PG version at 6 PM and a more adult PG-13 version at 7:45 PM. Tickets are $15 per person, $10 for popcorn, or you can get a combo package of two tickets and a bag of popcorn for $30. Click on the link to find out more about the show, as well as more about Heath Harmison. 
There is no reason to stay inside this weekend unless the weather does Idaho things and forces you to. There are tons of events all over the Magic Valley. Hopefully, the roads are clear, so you can make the drive to Burley or Rupert if attending one of those events. Get out of the house, have some fun, and enjoy the weekend. You are already going to lose an hour of sleep, so you might as well enjoy the weekend as much as you can. Whatever you decide to do, have fun, be safe, and enjoy your weekend.
Check Out Mary Alice Park in Twin Falls, ID
Mary Alice is an easily missed park, hidden in Twin Falls, but it should definitely not be missed if you want to visit the most magical park in town.
Twin Blades Axe Throwing