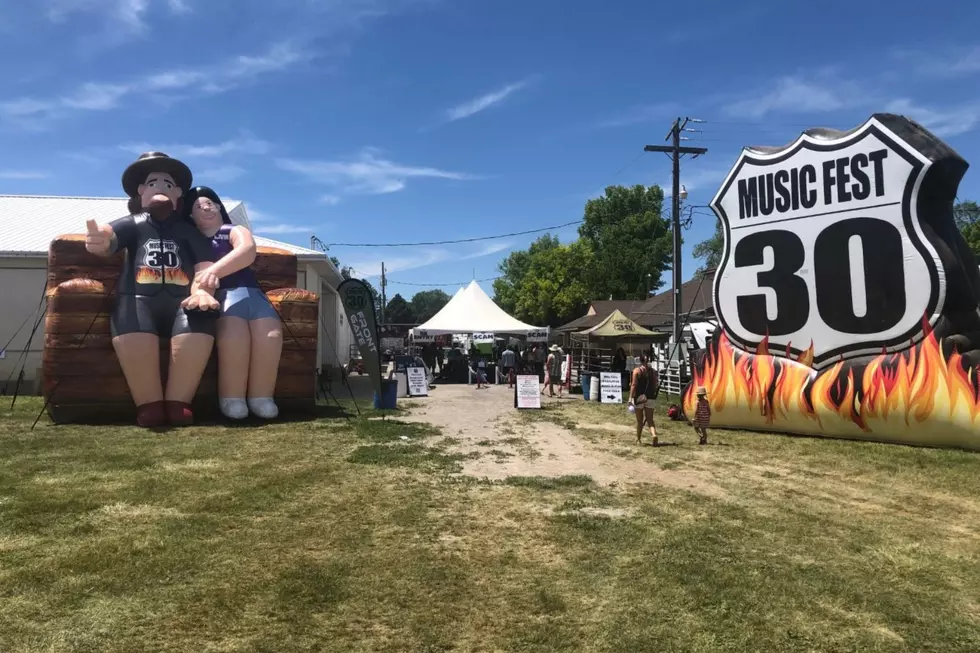 6 Things to Know Before Gordy's HWY 30 Music Fest
Credit: Jeff
We have finally made it to the week we have all been waiting for, Gordy's HWY 30 Music Fest is finally here. The event begins on Wednesday and will run through Saturday at the Twin Falls County Fairgrounds in Filer. There will be four days of live music, food, shopping, and an experience that you will never forget. It is the best event of the summer every year and typically when the festival ends, the anticipation and countdown begins for the following year. If you have never been before, you are in for a treat, but there might be some things you want to know before you head on out this week.
Parking at Gordy's HWY 30 Music Fest
Figuring out where to park can be a tad difficult, but there are plenty of options. There will be a field loaded with trailers and RVs and you are more than welcome to park among them, but parking further out might be a little better. It is best to use gate 2 off Fair Avenue for general admission parking. If you live in Filer, walking is always an option, and you can leave your car at home. Do not park on the side streets or main streets, there is plenty of parking available and it is free.
When Do the Gates Open at Gordy's HWY 30 Music Fest?
The first performer will not take the stage until noon each day, meaning gates will open around noon, and likely a little before. This year, there will be a stage outside of the gates to keep those of you waiting in line entertained. Therefore, the music will begin at 10:30 am and will go until around midnight each night of the festival. You can begin lining up at your earliest convenience, but you could be waiting a bit, depending on when you line up. 
Can You Leave and Reenter the Music Festival?
You absolutely can leave and reenter. Perhaps there is a band you aren't as familiar with, or you have had too much sun, or you are tired and need to lie down. Head back to your trailer and take a nap or escape the crowd for a bit. If you live nearby or have to go somewhere, you can leave and come back with no issues, so long as you still have your wristband on or a stamp if you have a one-day ticket. The only negative, is that awesome parking spot you had, will likely be long gone if you leave and come back.
Food and Drinks at Gordy's HWY 30 Music Fest
One of the most common questions asked is if you can bring outside food or drink to the festival. The answer is no. There are plenty of food vendors and drinking options available inside the gates. Going hungry will not be a problem. The important thing to remember is that while there are plenty of beverage options, typically the weather is warm during the festival, which is why it is a good idea to get plenty of water between your alcoholic drinks. Make sure to stay hydrated. As mentioned above, you are allowed to leave and reenter throughout the day, so if you need to run home or back to your trailer, you can do so.
Are Animals Allowed at Gordy's HWY 30 Music Fest? 
Despite being outside, pets and animals are not allowed at Gordy's HWY 30 Music Fest. There are exceptions to the rule, such as service animals, but outside of that, it is best to leave your pets home. We know you would love to enjoy the experience with your fury children and that they would likely enjoy the music, but with the large crowds, usually warm weather, and little to no shade, it is best for them and you that they not attend. 
What to Bring and Not Bring to Gordy's HWY 30 Music Fest
Certain items will help make your experience at the music festival better, and others that could have you outside the gate if you try to bring them in. Some of the items that you are encouraged to bring include lawn chairs, sunscreen, a hat, sunglasses, cash, a stroller for little ones, a jacket or sweatshirt on the rare occasion it does rain or get chilly, and a good fun attitude. Items you will want to avoid trying to bring in are food and drink, weapons of any kind, umbrellas, drugs of any kind, coolers, large bags, and a bad attitude. 
The festival is intended to be a fun time for all and obeying these rules will allow that to occur. If you would like to see more on Gordy's HWY 30 Music Fest and everything else you need to know, make sure to click the link in the first paragraph. Have your tickets ready when you get to the gate, be prepared to have your bag searched, and be ready for a fun time at Gordy's HWY 30 Music Fest this week. One day, multiple days, or all four, no matter when you go it's sure to be an experience you won't forget. Buckle up, it's time for the best summer event in the Magic Valley. 
Best Places For Adult Parties In Twin Falls
Parties and games aren't just for kids. Sometimes you want to abandon the kids at home and go have some real fun without them. Here are the best places to do that in Twin Falls.
10 Celebrities You're Most Likely to Encounter in Idaho