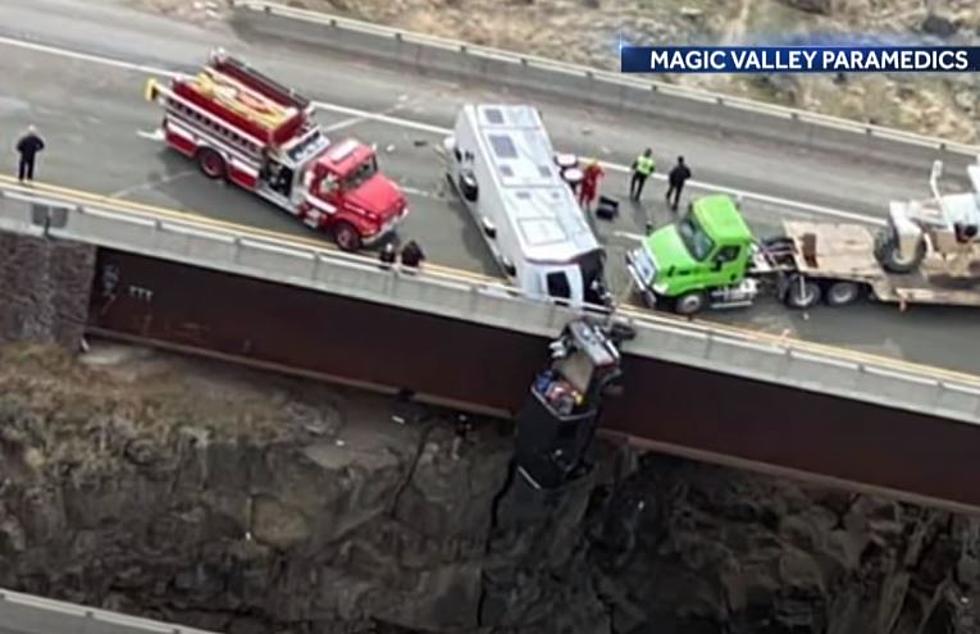 Couple Who Was Rescued Over Idaho Gorge Now Homeless
Youtube: NBC News
By now you have probably heard about and seen the crazy, movie like scenario. If not a quick recap... Idaho State Police responded to an accident Monday afternoon. The first trooper to arrive found a man, woman, we now know to be Nicki and Steve Cunningham, and two dogs inside a pickup truck that was dangling, nose-down, off the side of the bridge over the Malad Gorge. The drop was  about 100 feet.
As for how it happened, according to Steve who was driving when the crossed the bridge a gust of wind grabbed the camper and truck and he couldn't get control back before they were over the edge looking down.
The only thing that kept the nearly seven thousand pound 2004 Ford F-350 truck from falling was the set of "safety chains" that was attached to the couples 30-foot camper trailer. The trailer thank goodness stayed on the bridge.
After about an hour crews and equipment arrived that got them and their two dogs out safely. They were incredibly grateful to the Magic Valley Team of police, paramedics and other personnel who put them back on solid ground safely.
In the aftermath we now know that the camper that saved their lives was not just for camping but was their only home. The couple, Nicki and Steve Cunningham had all of their belongings and keepsakes in it. Now they have to rebuild their lives.
Nicki told Idaho News Channel 7, "We lost everything in our trailer, all our keepsakes, everything I had was in there because that was our home so we've lost everything."
If you would like to help the Cunninghams, find their GoFundMe here.
Here is a video with some visuals showing how intense this situation was...
These Are the 5 Most Hated Roundabouts in the Treasure Valley
50 Famous Brands That No Longer Exist