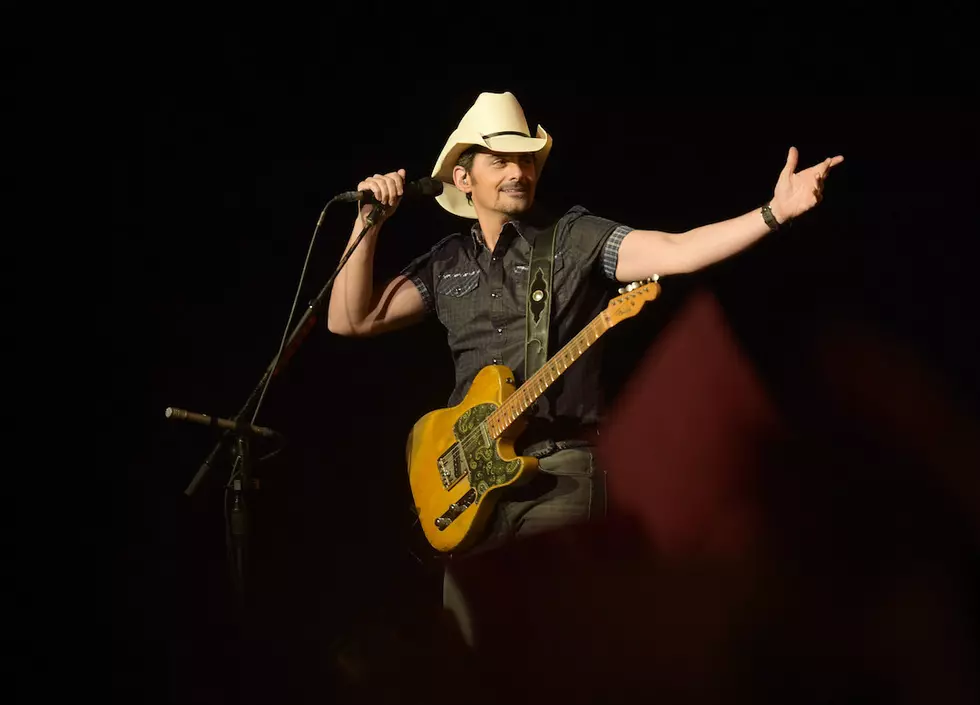 Brad Paisley Is Getting His Own ABC TV Special
Jason Kempin, Getty Images
Brad Paisley won't be hosting the 2019 CMA Awards on ABC, but the television network is giving the country star his own TV special. Brad Paisley Thinks He's Special will air on ABC in late 2019.
A press release describes Brad Paisley Thinks He's Special as an hour-long, prime-time "variety special [that] will showcase the energy of Music City from Nashville's iconic War Memorial Auditorium through a combination of Paisley's signature humor, unexpected surprises, heartfelt field pieces and rousing musical performances." Country stars Kelsea Ballerini, Tim McGraw, Darius Rucker and Carrie Underwood will all be part of the TV special, as will Rucker's band Hootie & the Blowfish, the Jonas Brothers, The Bachelor host Chris Harrison, football player Peyton Manning and others.
"Wait, I thought it was called the Brad Paisley Special. Who added the Thinks He's?" jokes Paisley, who will executive produce the show, in the release. "Oh well, I'm still psyched."
In addition to Paisley, Jane Mun, RAC Clark, Bill Simmons and Kendal Marcy will also be executive producing Brad Paisley Thinks He's Special. Says Rob Mills, senior vice president of alternative series, specials and late night for ABC Entertainment, "I am so excited for Brad to be able to turn this fun, down-home country idea into a reality on ABC. We all know him as an award-winning country superstar, and now we get the chance to see his comedic talents as he brings this variety special to life with the help of an incredible roster of A-list talent."
Paisley and Underwood served as co-hosts of the CMA Awards from 2008 through 2018. In 2019, Underwood will co-host the show with Reba McEntire and Dolly Parton, as the Country Music Association uses the annual awards ceremony to also celebrate country music's legendary female figures.
Brad Paisley Thinks He's Special isn't the artist's only television program in the works. Paisley is also working on a new Amazon television comedy, Fish Out of Water, with comedian Will Arnett and scriptwriter AD Miles. Paisley will be executive producing and starring in the show, which is described as "a Larry Sanders take on celebrity vanity projects and a behind-the-scenes look at country star Paisley's struggle to keep a simple little fishing show from turning into his own personal Fyre Festival." (The Larry Sanders Show was a long-running HBO television show about a fictional late-night TV talk show.)
These Country Stars Have Acted, Too!