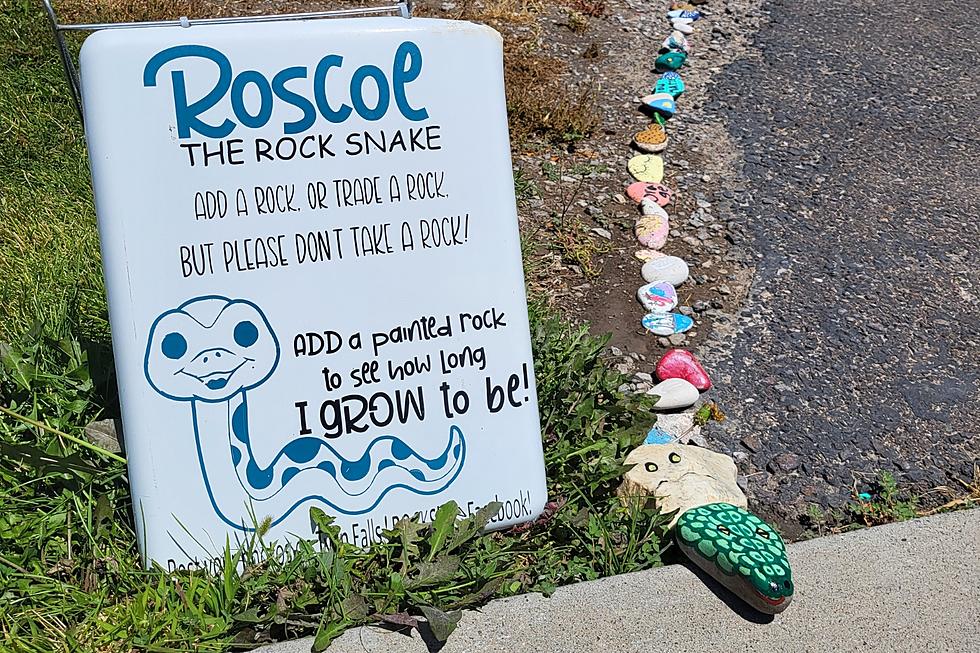 Who Is Making the Awesome Painted Rocks Along the Canyon Rim?
Credit Kat's Phone
Forest Gump said it, and it is true in Twin Falls. 'Sometimes, I Guess There Just Aren't Enough Rocks'. There is a phenomenon happening on the Canyon Rim Trail, and everyone is welcome to be a part of it.
The idea of painted rocks has kept many residents entertained across parks and hiking trails all over Twin Falls and surrounding areas. My grandson has collected many and had fun playing with them all. Now we make our own and exchange them with fun ones we find. I hadn't been walking on the Canyon Rim Trail recently, and I have evidently missed out on a new fun creature.
Who Can Help Painted Rock Celebrity On the Canyon Rim Trail?
Twin Falls "Rocks" is a group of painted rock enthusiasts that are promoting a unifying community 'snake'. Roscoe the rock snake is becoming a local celebrity that can only get more famous the more people visit him and help him grow. While construction can keep some visitors wandering around wondering where he is, once located, Roscoe is a sight to behold.
Some of his rocks are fancier than others, but all his segments are made with a fun spirit and joy in sharing. If someone along the trail sees a rock that speaks to them, exchange it with another. That way Roscoe can be shared with all who come to visit. Better yet, paint a rock and make him even bigger. Anyone can paint a rock and add to the fun.
Why Can't Twin Falls Rock Enthusiasts Find Roscoe? Where is He?
At the end of Washington Street, lies one end of the Canyon Rim Trail. Roscoe's head hangs right at the edge and he stretches on for hundreds of rocks. He's normally in a great spot with easy access, but during construction, he's a bit secluded. Parking farther down the trail, walk west to the end and you will find him.
Just don't park in the business parking lot at the end of the trail. It is a private lot and they do not like visitors. Anyone who has erroneously parked at this location knows 'This parking lot is posted for patients ONLY 24/7' fliers on the windshield, even on holidays and 7 AM Sunday mornings.
Roscoe needs the whole community to come together to make him even more of a success. Let's all see how big a celebrity Roscoe can be.
Most popular grocery stores in America
LOOK: Do you know these 50 famous acronyms?
This list from
Stacker
features a collection of the most common acronyms and their meanings. Popular abbreviations include establishments like ACLU, YMCA, ad the AARP.