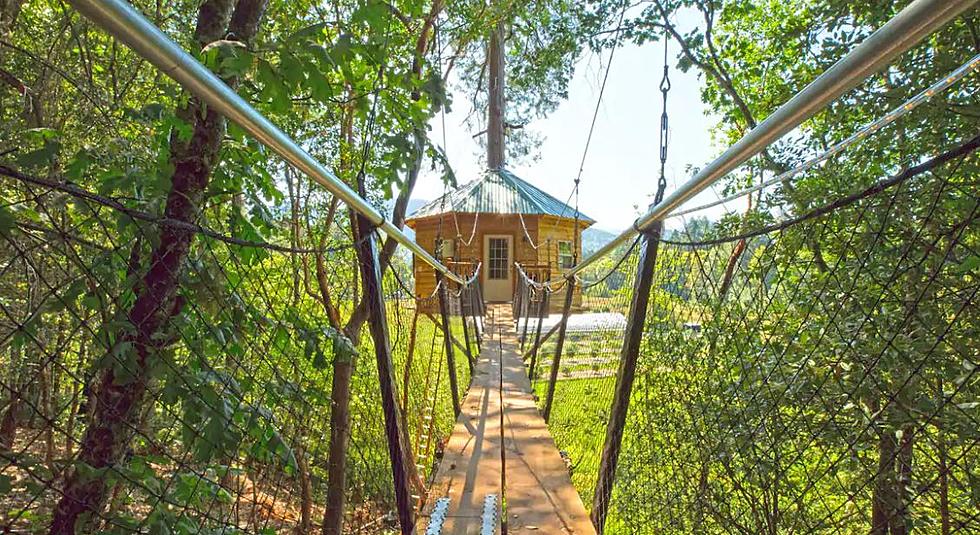 Suspended Oregon Airbnb Tree House Offers Amazing Views and Free Weed
airbnb
5-Star Rated Oregon Airbnb Offers Up Awesome Views And Free Weed
If you are looking for a new adventure in Oregon, there is an amazing Airbnb that'll take you to new heights in more than one way.

Oregon's Unique Treehouse Is Above A Working Cannabis Farm
A suspended high in the sky Airbnb in Oregon State offers up some amazing views while being high above a working cannabis farm. You might not find anything like this experience in the state of Oregon.
The Tokin Tree is a 5-star rated Airbnb that offers up complimentary cannabis as part of your stay.
All guests have to be 21 years of age and older and it's been getting rave reviews on Airbnb.com
Here is what the listing says about the property:
This is a cannabis-friendly treehouse rental. All guests must be at least 21 years of age or older to stay. The treehouse accommodates up to 4 people, the rental comes with some complimentary cannabis and a garden tour(when available-please note tours are NOT guaranteed). This is a treehouse built among the canopy and branches of a tree, during certain times, especially early spring and summer there is the potential for bugs to be in the treehouse. This includes spiders, ants, and bees.
Located in Cave Junction Oregon, The Tokin Tree offers up a unique experience for guests and travelers alike. The cool thing is nearby, there is the Oregon Caves National Monument and Preserve.
Take a peek inside the tree house:
Peek Inside This Suspended Oregon Airbnb Tree House That Offers Free Weed
Take yourself to new heights in this unique Oregon Airbnb Tokin Treehouse that offers spectacular views and complimentary cannabis.
The accommodations include a kitchen, bathroom and shower, and queen bed with a sofa that folds out into another queen bed. The treehouse will sleep up to 4 guests at a time.
If you have been looking for a unique adventure, this might fit the bill for you. You can check out more details on the Tokin Tree here.
Gorgeous Oregon Airbnb Is $88 A Night!
A gorgeous Oregon Airbnb is rated 5 stars and it's a great deal at $88 a night.
Brundage Bungalows Is A Perfect Escape From The Tri-Cities
Looking for a great escape, check out Brundage Bungalows near McCall Idaho.