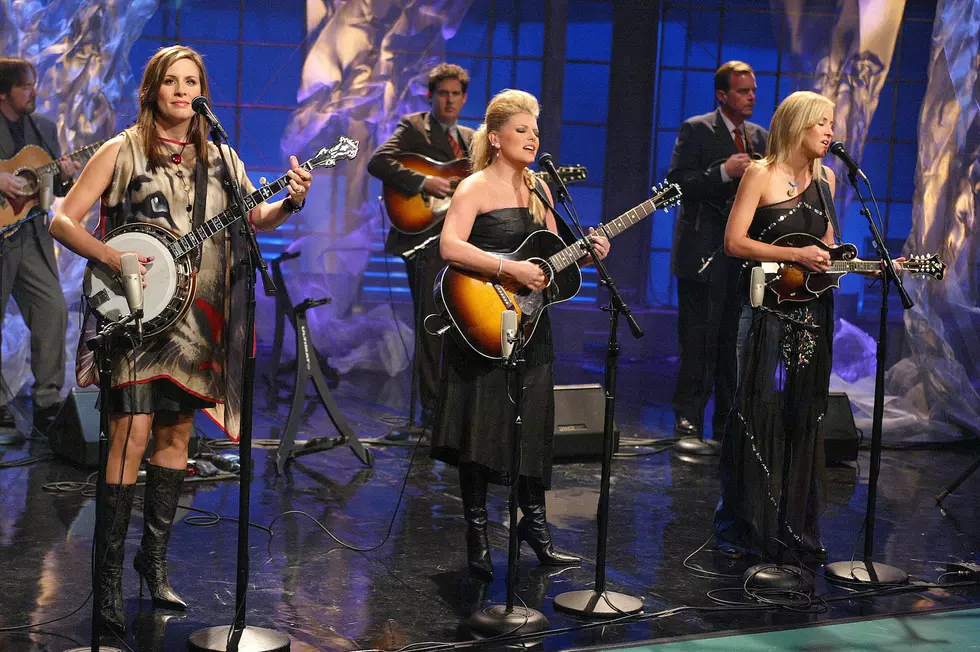 New Dixie Chicks Album, Arena Tour Coming in 2020, Confirms Natalie Maines
Kevin Winter, Getty Images
Dixie Chicks fans, Natalie Maines says the wait for new music is almost over. On an episode of the Spiritualgasm podcast, the singer confirms that a new record from the country trio will be out in 2020, and that it will be accompanied by an arena tour.
According to Maines, the Dixie Chicks' new album is called Gaslighter, and based on her conversation with podcast hosts Sterling Jones and Arielle Kebbel, it's pretty much complete. The singer says she and her bandmates had planned on the project being a record of covers, simply to fulfill their requirement of a seventh album with Sony, but it will be original material -- and she thinks it's their best yet.
"When I started getting a divorce, I had a lot to say, so that kind of sparked me being ready [to make new music]," says Maines, who is in the process of divorcing her husband, actor Adrian Pasdar. "Songwriting is really hard for me, and I think, for many years, I didn't want to analyze my life or my relationship. I was just in it and dedicated and devoted ... I just was not ready to open up like that."
Gaslighter will be the Dixie Chicks' final record with Sony, at which point they will be free to sign a new record deal, or become an independent trio. FDuring the podcast, host Sterling Jones specifically mentions a song called "Go It Alone" as his favorite track on the new project, and calls the title track "old-fashioned Dixie Chick fun." Maines' bandmate, Martie Maguire, whom Maines calls during the podcast, says she's been listening to the record's final mixes, and that its songs continue to make her cry.
"Our last album was the most personal and autobiographical we'd ever been," Maines says, "and then this one is, like, 10 times that."
As for the tour, Maines says that she recently received the trek's proposed routing details. She provided no other information about how many shows the tour will include, when it will begin and where they'll perform.
The Dixie Chicks have not released a new album since 2006's Taking the Long Way, a No. 1, multi-platinum, Grammy Awards-winning album. The record followed a few years of controversy, after Maines made a comment about then-U.S. Pres. George W. Bush onstage in London, England, that led to the group being banned from country radio and effectively blacklisted within the country music industry.
The Dixie Chicks returned to the spotlight in the United States in 2016, when they embarked on their DCX MMXVI World Tour, their first trek to include North American dates in a decade. Previously, the group had stated that they weren't sure they'd be welcomed in the U.S. again, due to the backlash that followed Maines' comments against President Bush and the U.S. invasion of Iraq.
Earlier this year, the Dixie Chicks teamed up with country-turned-pop superstar Taylor Swift for a new song, "Soon You'll Get Better." The country trio, of whom Swift is a big fan, harmonizes with Swift on the personal track, from her newest album, Lover, released in August.
WATCH: The Secret History of the Dixie Chicks' Country Radio Ban
More of Country Music's Biggest Risk-Takers