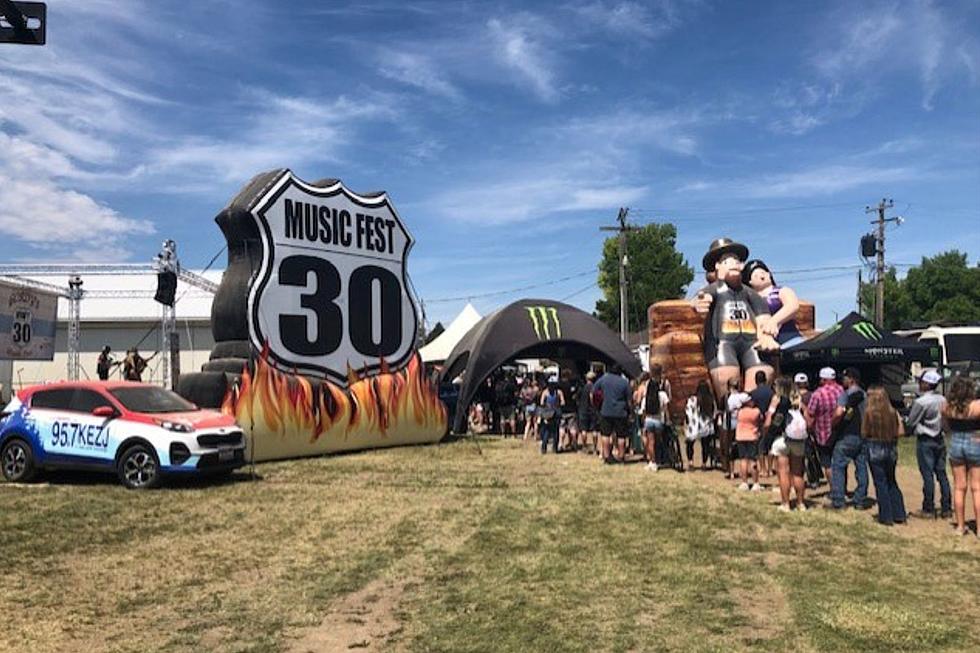 Wrapping Up and Recapping the Best of Gordy's HWY 30 Music Fest 2023
Credit: Jeff
Gordy's HWY 30 Music Fest has come and gone for 2023. It was a fun, jam-packed four days of live music, great people watching, delicious food, good shopping, and a fun time for all of those that attended. Sadly, we all must wait another year for it to come back around, but that doesn't mean we can't look back on the crazy four days that took place in Filer this past weekend. Here is some of what you may have missed at this year's festival.
The Calm Before the Festival
Throughout the day, the fairgrounds fill up more and more, where it becomes hard to walk through, but before the gates open, it is peaceful and quiet inside. Vendors are preparing for the long day ahead and making sure they have everything they need to get through the day and night.
The Line for Gordy's HWY 30 Music Fest
Gates typically don't open up until 11:45 am, but that doesn't stop festival-goers from lining up outside of the gate early in the morning. The crowd may slowly trickle in, but as the time approaches for the gates to open, it grows and grows. Once they open, festival goers race to get their spot near the stage, or perhaps to set up their chairs for the remainder of the day or weekend.
The Preshow
One welcomed addition to this year's festival was having a stage outside of the gate to entertain the crowd while they waited for the gates to open. Instead of sitting on their phones or chatting, they were able to get warmed up and excited by the singing of country music artist KC Johns for all four days. Next year, she will move inside to the main stage, but the hope is that this will become a part of the festival every year.
The Sea of Chairs
If you are ever in the market for a lawn chair, Gordy's HWY 30 Music Fest might be a good place to browse. There is a sea of chairs that are set up on the first day, and the sea grows and grows each day. There is a variety of chairs, and while you can't sit in them and try them out, you can walk by and admire the different kinds and ask questions to the person using the one you like best.
The Merchandise
There is always great merch to be had at HWY 30, and this year was no different. There is merchandise for the festival but also for many of the artists. Some of them will hang out in the merch booth to sell their products and take pictures, which makes for a unique and exciting experience.
The Food
The food vendors at HWY 30 Music Fest are incredible. Try walking past them three or four times, and you will be caving to the temptation and emptying your wallet to buy all the delicious goodness you can afford. There is a variety to choose from and it makes picking what to eat tough, but the good news is you have four days to try it all.
Shopping Options
There is tons of browsing to do while out at the festival. You could go home with a new chair, a new hat, or even a bear...made of wood of course. There is enough there to keep you browsing for awhile and many of the vendors have tents that offer shade to escape the sun while you do so.
New Additions
One of the newest additions this year was having bounce houses for the kids, as well as having Clover Leaf Creamery on sight to offer delicious ice cream and even beer floats. It was common to see many festival goers walking around with a cup of ice cream throughout the day and night. All of this was located in Merchant Building 2 by the main entrance.
The Crowds
The crowds for all four days and nights were incredible and the fairgrounds were packed as full as they could get. The people packed into the field and made sure the artists knew how much they appreciated them. It was often hard to find a walking path or a place to sit or stand, but that is what you want at a festival like this.
The Headliners
This year had some amazing headliners, and they helped play a big part in the large crowds mentioned above. Lainey Wilson started things off the first night, rounding out ladies night, with Shane Smith and the Saints following it up on Thursday. Whiskey Myers continued the week with an amazing performance in front of a packed crowd, which was followed up Saturday night by Koe Wetzel who rounded out the festival in style.
The 2023 festival was amazing and the pictures, videos, and memories will last a lifetime, but it is now time to turn our attention to 2024. Two of the four headliners have already been announced with Morgan Wade being announced for the all-female lineup again on Wednesday, June 19, 2024. Cody Jinks has also been announced as one of the headliners, leaving two headlining spots left for next year. The only other act officially confirmed is KC Johns, who will be a part of the all-female lineup on Wednesday as well. More artists will be announced in the coming months, but it is already off to a great start.
Best Places For Adult Parties In Twin Falls
Parties and games aren't just for kids. Sometimes you want to abandon the kids at home and go have some real fun without them. Here are the best places to do that in Twin Falls.
Things We Do In Idaho That Feel Illegal But Aren't
We all know that feeling of driving down the street innocently obeying all the laws and a cop car pulls up behind you and you immediately feel like a felon on the run.