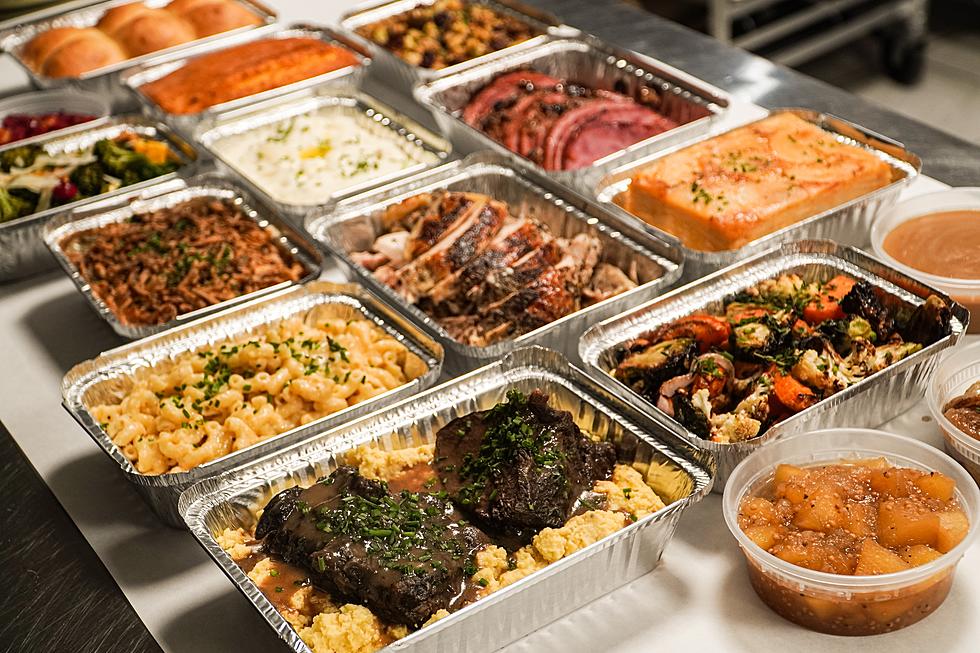 Twin Falls Thanksgiving Dine-In or Takeout Options 2023
Ana Maltez - Unsplash
Going through all of the fuss and cleanup that goes along with cooking a big Thanksgiving meal doesn't always make sense for everyone. If you need to avoid the heavy lifting, but still want a holiday feast, here's a list of Twin Falls area restaurants that are serving dine-in and/or carryout Thanksgiving day meals this year.
Redhawk Gastropub
RedHawk will be serving Thanksgiving from 11:00 am-4:00 pm on Thanksgiving Day.  
Dinner includes salad along with all the staples like turkey, ham, mashed potatoes & gravy, stuffing, yams, green bean casserole, cranberry sauce, dinner rolls, & choice of pumpkin, pecan, or Dutch apple pie. Dinner also includes 1 glass of white wine per adult and 1 soda per child. Thanksgiving dinner is $45.99 per adult and $19.99 per child 10 and under.
You can check out the entire Thanksgiving menu and make your reservations at the Redhawk Gastropub website.

Shari's
Shari's is offering turkey or ham holiday meals and will be open on Thanksgiving. Your turkey dinner includes a roll, stuffing, mashed potatoes & gravy, and a vegetable. Shari's is also a great resource if you're looking for a pie for your Thanksgiving dinner, or even order your entire Thanksgiving meal to go.  You can call Shari's to order your pie for pickup or place an order on Shari's website. 

Jakers Bar and Grill
Jakers in Twin Falls will be open and serving Thanksgiving dinner, along with their regular dinner menu from 11:00 am - 2:00 pm on Thanksgiving day. You have a choice between either a turkey or ham dinner with mashed potatoes, gravy, cranberry sauce, green bean casserole, stuffing, choice of soup or salad, and pumpkin pie. Adults are 24.95, seniors are 22.95 and kids are 12.95.
Jakers is also offering a family-style Thanksgiving takeout feast. The pickup order includes ham or turkey, garlic mashed potatoes, stuffing, green bean casserole, gravy, cranberry sauce, scones with honey butter, and pumpkin pie. The 4-6 person feast is $99.95.
Important: If you want the takeout meal, you need to have your order placed by Sunday, November 19, 2023. You can get more information on the Jakers website or call 208-733-8400 to book your order.
Black Bear Diner
Black Bear in Twin Falls is open from 6:00 am - 10:00 pm on Thanksgiving. They'll be offering their regular menu or your choice of a dine-in or takeout Thanksgiving meal with your choice of turkey, ham, or prime rib. Prices vary. Black Bear is also offering takeout holiday meals either by the entree or family style. You can pre-order your holiday meal starting Monday, November 20 at blackbeardiner.com 
Johnny Carino's
Johnny Carino's will be open starting at 12:00 pm on Thanksgiving day. Along with a house salad and endless bread for starters, Carnio's will be serving up hand-carved roasted turkey with gravy, cornbread stuffing, red-skin mashed potatoes, candied yams, vegetables, and cranberry sauce. Top it off with a slice of pumpkin pie for just $23.99 for adults and $9.99 for kids 10 and under.
Carino's is also offering a family platter to-go that feeds up to 4 people for $69.99 or a feast for up to 8 people for $129.99. Takeout, family-style feasts need to be ordered in advance by Friday, 11/17/23. You can order in advance online at carinos.com
Golden Corral
Golden Corral is offering a Thanksgiving feast to-go that serves 6-8 people. The feast includes roasted turkey, glazed ham, or roast beef, plus mashed potatoes and gravy, stuffing, your choice of a side, cranberry sauce, and their famous yeast rolls with honey butter and a whole pie. Prices range from 99.99 to 119.99 depending on which meat you choose. In addition, you can order additional items a la carte. Takeout orders should be made at least 72 hours in advance.

Did we miss anyone?
If you know of an open restaurant that you'd like added to the list, we'd be happy to spread the word. Just email the author of this post and we'll add it as soon as possible.
50 Most Popular Chain Restaurants in America
YouGov investigated the most popular dining brands in the country, and Stacker compiled the list to give readers context on the findings. Read on to look through America's vast and divergent variety of restaurants—maybe you'll even find a favorite or two.
Gallery Credit: Paul Feinstein