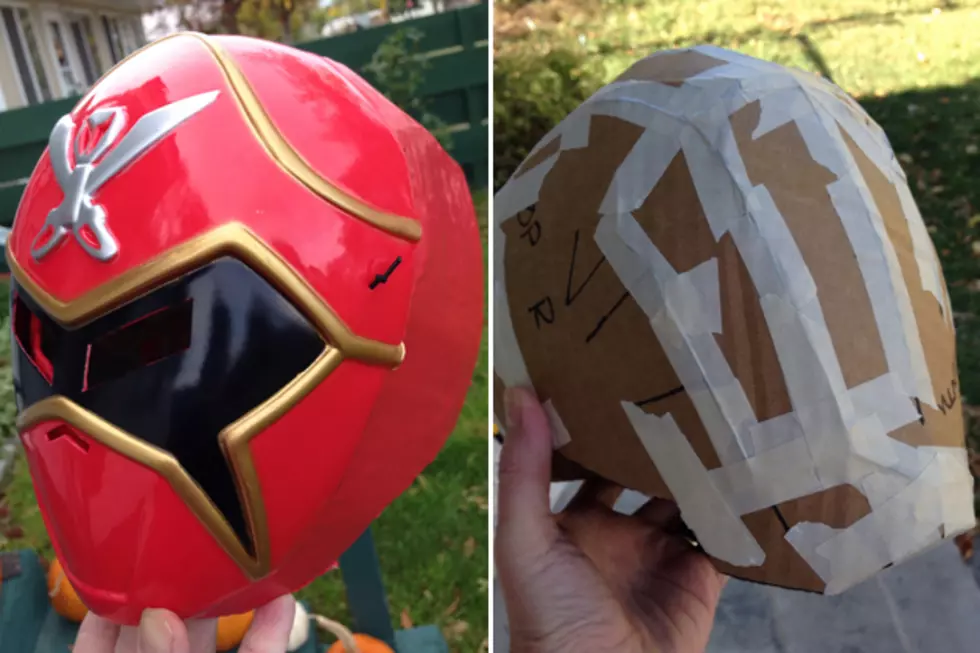 Make Your Own DIY Power Rangers Helmet for Halloween [Updated]
The finished helmet is on the left, and the frame we started with is on the right. Image: kezj.com/Terry Morgan
Make your kids their own Power Rangers helmet out of cardboard, paper mache, and paint for Halloween. Here's a template, guide, and tips to getting it done.
My son Jack is currently infatuated with Power Rangers (he's 6, so it's forgivable). While we found a pretty nice Power Ranger Halloween costume at the store, we couldn't find a helmet. At all. We decided to go DIY and make one.
I thought going into this project that making a Power Rangers helmet would be pretty challenging. Turns out that it really isn't that hard. With the right template and materials, you can do this. The cool part is that these helmets work not only for Power Rangers, and not just for kids, but for just about anyone and anything.
Here are a few things we learned along the way:
The hole in the bottom of the mask is way too small to get over your child's head. You can enlarge it by cutting along the back.
If you leave the chin piece off the mask it will fit better, but it will be less stable. Up to you. I ended up leaving Jack's on.
The more layers of paint, the better. I read that it's better to use black for the base, but it could cause the paint to turn out too dark. My sister did an amazing paint job on the helmet.
Instead of painting the details on the mask, I cut a rectangular hole for the eyes and drilled air holes for the mouth, and then attached the store bought Power Rangers mask that came with Jack's Halloween costume. It fits perfectly and looks way better than anything I could create.
The helmet will get hot, even with air holes cut in it. Make sure your little Power Ranger takes it off regularly.
Thanks to my talented sister Danae, Jack is ready for trick or treating! Here's the gallery of the Power Ranger's helmet, start to finish!
And here's Jack trying out his Ranger moves in the helmet!
Here is the finished costume! Jack absolutely loves it and can't wait for Halloween.