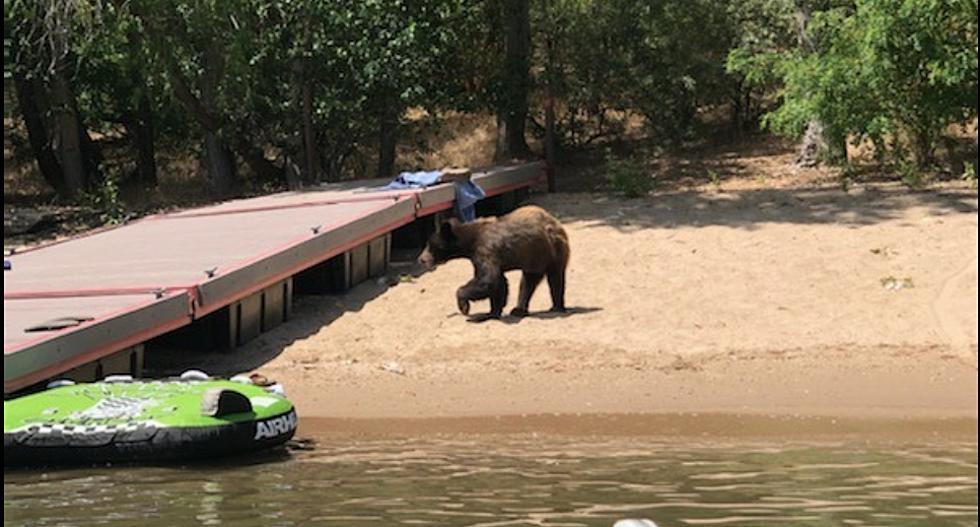 Idaho Bear at Lucky Peak Looking for Snacks. Are You Coming Back?
Courtesy: Boise County Sheriff's Office
I have recently been intrigued by all the outdoor friends we have roaming around Boise. It's not shocking to see a deer camped out next to our office, Geese waddling with the family at a red light, or a small Coyote packs off Parkcenter.
I've personally seen all those. Bears? Boise Sheriff's Office is reporting a hungry bear looking for snacks near Lucky Peak. Yes, that just happened.
Bear Seen Near Lucky Peak Searching for Snacks
First, let's not react because we do live in Idaho. Bears, coyotes, rattlesnakes, deer, and many more of your Lion King friends live here (lions part could be extreme) down the street. The Boise Sheriff posted to their Facebook earlier that this bear was seen in the Deer Flat Campground Wednesday.
Officials have shut down that park of Lucky Peak until they find him a new home. "It would be un-BEAR-able to have to come and save you from a treat-seeking visitor." That comes from the Boise Sheriff's Facebook page
Should You Be Worried
Only if you decide to fight the bear. The only people that really get nervous are people from out of town (no offense). That's my vibe when asking Idahoans that grew up here. I feel like everyone has run into a bear and it's never an issue as long as you know what to do.
This was a young bear near Lucky Peak and that means a mother of that baby is looking. That's one I would just stay away from and have bear spray on hand. Also, don't leave food out where they can smell it because you might have an unwanted guest. Heading out to Yellowstone over the holiday? Read this on other animals at Yellowstone to be aware of.
Just a heads up.

Fun Fact: Purchase your bear spray in town before you find yourself paying double and triple the amount.
Valley Village Glamping is Perfect For People Who Hate Camping
Valley Village is a tiny home and RV park located in Irwin, Idaho. It's about a five hour road trip from Boise. A stay in one of their "glamping" tents is about $115.
Stunning Garden Valley Cabin Has Its Own Private Hot Spring
LOOK: 30 fascinating facts about sleep in the animal kingdom