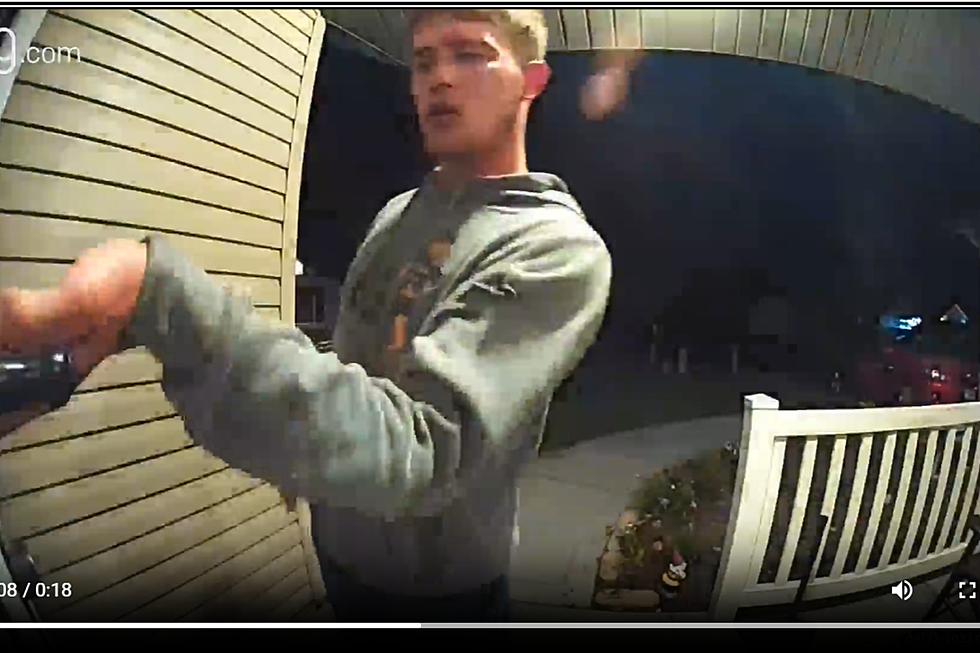 Should Twin Falls Residents Quit Breaking the Law, or Get Better Friends?
Credit Kat's Door
My father taught many lessons to his children, but one of the most memorable was 'never leave evidence'. If we were going to eat in the living room where no food was allowed, we'd better not leave an empty milk glass on the piano.
What Cool Stuff Have You Seen On Your Doorbell Camera?
This past weekend, I had the opportunity to witness something akin to this behavior. I would like to enter into evidence, photos taken from a video of my ring doorbell.
The brief encounter began with a person approaching my domicile at 12:43 AM on the 23rd of September. When my motion sensor alerted me to activity, I first assumed it was the almost nightly visit from a cat that finds my front porch doorbell most intriguing.
We see in the next shot that this is not a pesky feline, but a particular person who may be intoxicated or may be trying to get a close-up for a free mammogram.
The brief physical encounter with the doorbell camera has it temporarily changed to night vision mode, with a slippery-handed attempt to open a thankfully locked storm door.
The extremely ungraceful getaway thankfully avoided stepping into my flowerbed and collection of zombie gnomes.
A few moments later, there was a knocking at my daughter's bedroom window in the backyard. The guy implored 'Bobby' to let them in. My daughter answered that there was no Bobby affiliation at this location, and he responded 'Can you give me a ride home?'. She refused and he extricated himself from the backyard. Poor baby just wanted to go home.
Do You Have Good Friends or Bad Friends?
After regaling my neighbors with my story, I learned there is an activity that some juvenile-minded humans enjoy. While drinking with friends, the first person to pass out gets dropped off somewhere near their home, at an ex-girlfriend's house, or ding-dong-ditched on their front porch. While showing poor judgment in being drunk in public, I'm not sure his friends did him any favors. Couldn't he have just stayed where he was and slept it off?
It's like the beginning of a bad joke. 'A drunk guy walks into a doorbell....' Correct me if I'm wrong, but my video would be evidence, right?
To Bobby's friend: Thank you for helping me feel the investment in my doorbell camera was warranted. On a more personal note, whoever let you walk away obviously drunk, or left you to get arrested for public intoxication is not your friend. Perhaps a change in drinking habits and friends is in order.
These Are the 15 Drunkest Counties in the Entire State of Idaho
Based off data compiled by County Health Rankings, these Idaho counties have the highest prevalence of excessive drinking and alcohol-impaired driving deaths.
The Pros & Cons Of Learning Your Idaho Neighbor's Preferred Political Party
We found a tool that reveals how your neighbors vote. Here are the pros and cons to knowing that information...