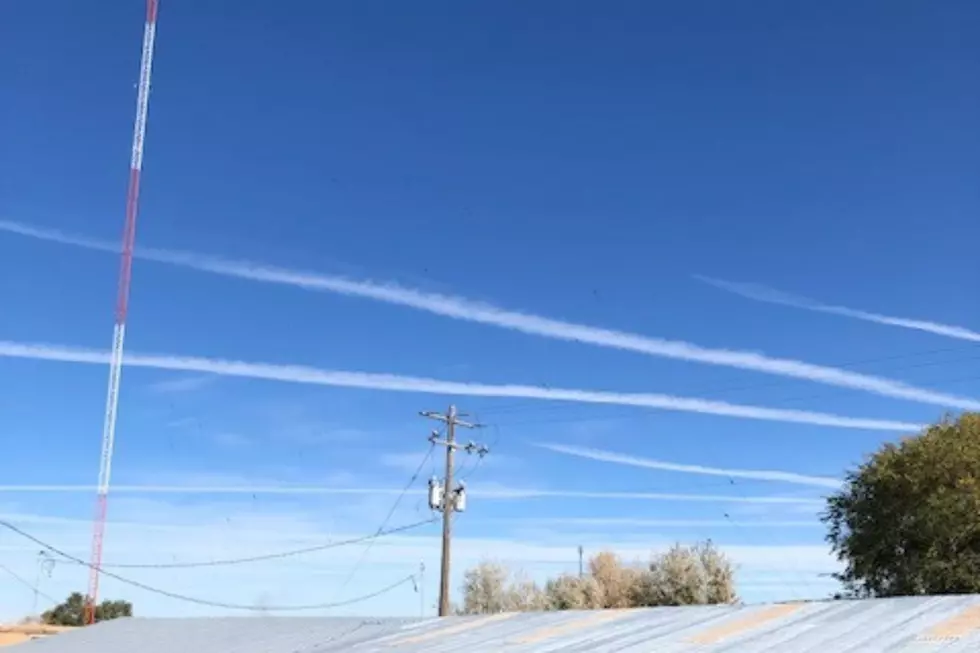 Why do Some Idahoans Think Lines in the Sky Might be Dangerous?
Credit: Jeff
The skies in Twin Falls have looked a little different lately, and the residents here have taken notice. As the season changes and the snow and rain have come and gone over the last week, the skies have turned dark, but there have been some bright blue skies as well. While the clear days are nice, they haven't been remaining true clear skies, and that is where some residents have had some issues and some theories are beginning to make the rounds in the area. What are these streaks crossing the sky and are these theories justified or are they a fable to scare the residents of the Magic Valley?
White Streaks Across the Blue Twin Falls Skies
Multiple residents of the area have taken to social media lately to express their frustration and concern about the white streaks appearing in the sky, but while people are seeing the same streaks, the reasons for the postings are entirely different. One resident recently expressed frustration that Twin Falls is allowing these streaks to ruin the clear sky, and that something needs to be done. Many had responses to this frustration, but there is little Twin Falls can do. Unless the air space is private and protected, there is no way to stop jets from flying through it. Most don't notice these streaks and if they do, they are not bothered by them, but with clear skies fading as the gloom approaches this fall and winter, nobody can fault this person for wanting a truly clear sky. I am not sure who she should complain to, but the odds are the streaks won't be going away.
Streaks in the Sky May be Chemicals Harming Twin Falls Residents
Over the last few days and weeks, there have been multiple streaks across the sky from jets, with many claiming to see five jets flying over at the same time, and in some instances seeing up to ten. Some residents believe that these jets are spraying chemicals which will lead to difficulty breathing, lethargy, headaches, lack of appetite, and other symptoms. While there isn't evidence to currently prove this theory wrong, the symptoms described above match COVID and some of the other flu-like diseases making the rounds in the area. It is possible that spraying chemicals in the area would cause the spread of COVID and could lead to these diseases, but at this time of year, they are common to spread without the help of chemicals. Odds are slim that anything is being sprayed, and that the jets are leaving streaks from their engines, with the jets being from Mountain Home in all likelihood hood. 
Despite the posts on social media, it is safe to say that Twin Falls is not responsible for the streaks in the sky, as well as it is highly unlikely, yet not impossible, that chemicals are being sprayed down on the residents of the Magic Valley. There have been more streaks in the sky than usual lately, and there have been some unique designs, but there is nothing to be concerned about and nothing to complain about. More theories will come out and more complaints will as well, but enjoy them, ignore them, or be angry, it is all up to you. Why do you think the jets are making more streaks than usual and what are your thoughts and opinions on them? 
Honest Twin Falls Welcome Signs
I'm pretty certain that most people don't fully understand what 'Twin Falls' actually means. On that note, if Twin Falls had an honest welcome sign: what would it say?
15 Perfect Memes For Idaho
The beauty of a meme is that it usually doesn't need any explanation. You can just post the meme and sit back, knowing your work is done.