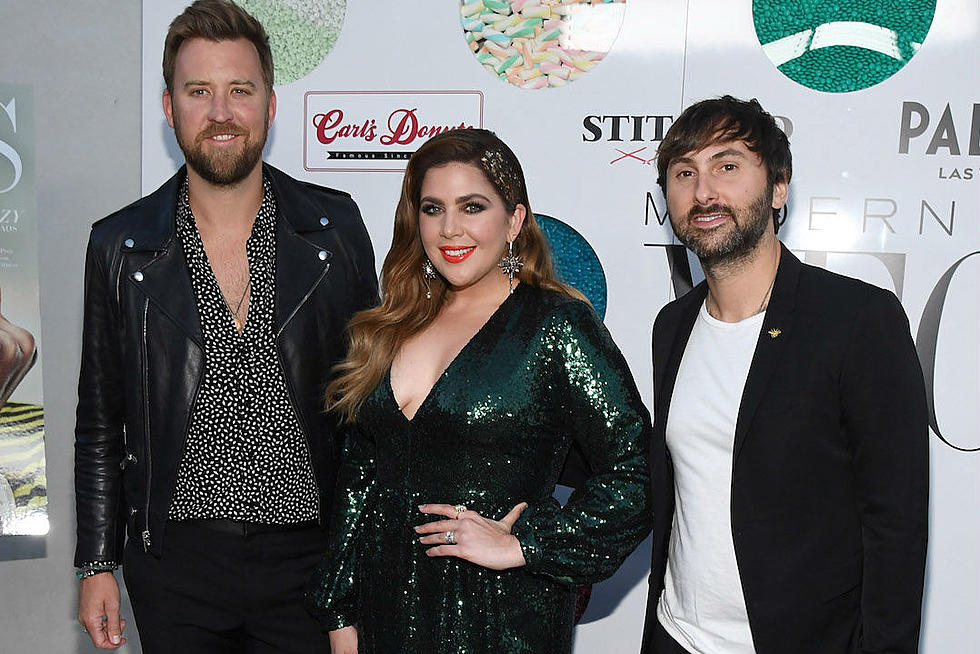 Everything We Know About Lady Antebellum's New Album, 'Ocean'
Ethan Miller, Getty Images
Lady Antebellum members Dave Haywood, Charles Kelley and Hillary Scott are celebrating 13 years as a group while embracing their shared musical roots on their forthcoming new album. The project, Ocean, will be their first with a new record label, Big Machine Label Group.
The big-time release, which features more than a dozen new songs, will be out before the year's end; it also features another big-name country vocal group. Read on for all the details.
The Title
Lady Antebellum's newest album is titled Ocean. The country trio purposefully selected a vague title that's open to interpretation, to signify the ebb and flow of their shared career and Haywood, Kelley and Scott's personal experiences.
"Ocean stands for all of the things that we think and feel when we hear the word," says Scott in a press release. "It's parallel with those feelings, much like the songs about barely keeping your head above water and others that make you feel like everything is smooth sailing."
The Release Date
Ocean makes a sweet run of new fall releases by the likes of Luke Combs and Miranda Lambert even sweeter. It's due to hit stores and digital streaming sites on Nov. 15.
The Record Label
After making a name for themselves since day one with Capitol Nashville, Lady Antebellum find themselves debuting with Big Machine Label Group with Ocean. The country trio signed with BMLG in late 2018.
The Producer
To further shake things up for their Big Machine debut and drift back toward their harmonious roots, Lady Antebellum worked with session guitarist-turned-country music producer Dann Huff.
"There's this theme of returning to the core of who we are — as writers, vocalists and people — that came out in each of these songs," Haywood explains in a press release. "Our time in the studio with Dann had an excitement that felt like we were making our first album all over again."
The Album Cover
There's no folk art-style painting or intricate design on Lady Antebellum's new album's cover. Despite the artists' skillful use of color and fonts, it's mostly the roll-out of a new press photo -- which is fine, because sometimes less is more when it comes to the aesthetics of big-time country music.
The Single
Lady Antebellum released Ocean's first single, "What If I Never Get Over You," in May. There's definitely an aspect that feels familiar -- it's a classic duet between Kelley and Scott -- but the song is fresh all on its own, too. Its scorching lyrics tell two sides of the same story in a relationship whose outcome doesn't seem to have a winner.
"To me, this song stands out so much because it asks so many great questions that are unanswered. I think we've all been there," Haywood says. "I think that's what's so powerful about "Need You Now." It went around the world, to me, because it just related to everybody. The relatability is what stood out, and telling both sides of the story. We've always recorded songs like that."
The Songs
Ocean's title track captures a powerful vocal performance by Scott, accompanied by a lush piano arrangement and her bandmates' familiar harmonies. As the press release announcing the record puts it, "Scott's bare vocal puts a bow on the album's core, reminding us of life's beauty even when we get caught in its undertow."
Ocean's 13-song track list reads like a strong one beyond "What If I Never Get Over You," "Ocean" and the previously shared "Pictures," though. Potential standout tracks include Kelley's ode to commitment, "Be Patient With My Love," the Celtic fiddle-driven "Boots" and the Little Big Town team-up "The Thing That Wrecks You."
Lady Antebellum, Ocean Track List:
1. "What If I Never Get Over You" (Sam Ellis, Jon Green, Ryan Hurd, Laura Veltz)
2. "Pictures" (Dave Haywood, Charles Kelley, Hillary Scott, Sarah Buxton, Corey Crowder)
3. "Crazy Love" (Charles Kelley, Nathan Chapman)
4."You Can Do You" (Dave Haywood, Charles Kelley, Corey Crowder, Jordan Schmidt)
5."What I'm Leaving For" (Sam Ellis, Micah Premnath, Laura Veltz)
6. "Be Patient With My Love" (Charles Kelley, Dave Barnes, Ben West)
7. "Alright" (Dave Haywood, Charles Kelley, Hillary Scott, Busbee, Justin Ebach)
8. "Let It Be Love" (Hillary Scott, Jordan Reynolds, Amy Wadge)
9. "On a Night Like This" (Dave Barnes)
10. "Boots" (Charles Kelley, Ross Copperman)
11. "The Thing That Wrecks You" feat. Little Big Town (Daniel Tashian, Tenille Townes, Kate York)
12. "Mansion" (Chris DeStefano, Hillary Lindsey, Josh Miller)
13. "Ocean" (Tofer Brown, Sarah Buxton, Abe Stoklasa)
The Tour
As of Nov. 11, no album tour details are available, but a promotional run of dates feels inevitable.
You Think You Know Lady Antebellum?
LOOK: Lady Antebellum's Best Live Shots