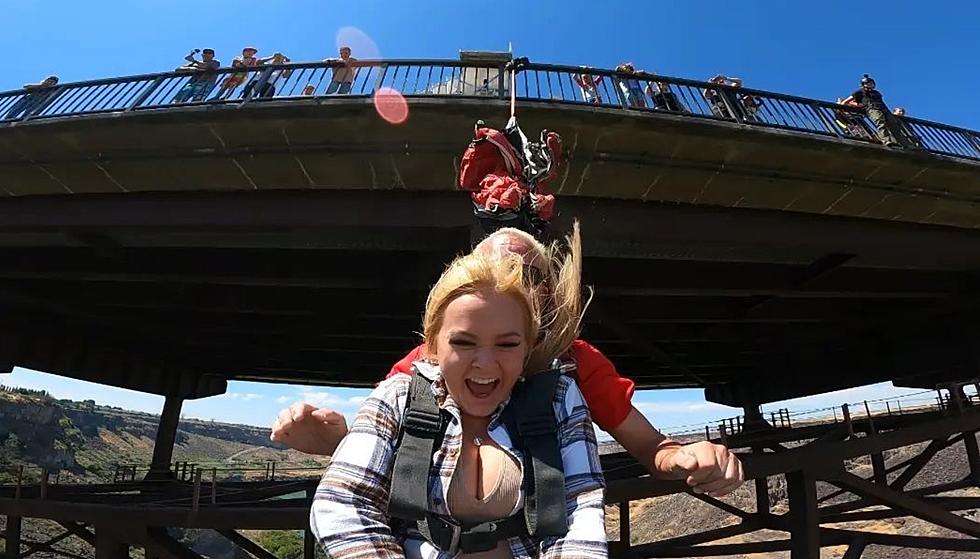 How You Can Tandem BASE Jump at Perrine Bridge in Twin Falls
BASE jump The Bridge
Tandem BASE Jumping Underway at Perrine Bridge in Twin Falls
If the idea of BASE jumping from the Perrine Bridge in Twin Falls has you interested and scared at the same time, a tandem jump with a professional BASE jumper might be just what your fear factor needs.
Like a lot of you, I really enjoy watching BASE jumpers at the Perrine Bridge in Twin Falls. I'm not sure if it's bravery or craziness that fuels them, but either way, I greatly respect people doing what they love for the sheer enjoyment of it. I've also been a little bit intrigued with the sport, but admittedly, I don't think I have the nerve to do it myself… I mean, where would I even start?
Maybe you find yourself in the same situation. You're interested in BASE jumping, but more than a little nervous about giving it a try.
You don't have to go it alone
If you think BASE jumping is in your future, you will need to be trained by a professional. But before you even go down that road, you might want to give it a try to see if it's something you really want to do before investing a bunch of time and money.
Good news: You don't have to go it alone. BASE Jump the Bridge in Twin Falls is offering tandem BASE jumps with a professional from the Perrine Bridge. This means that you're securely tethered to a seasoned pro who is tending to your safety, while you get to enjoy the ride and take it all in.
About your instructor: David Helton
David Helton is the owner/operator of BASE Jump the Bridge, and an experienced skydiver and BASE jumper. He's competed just under 9,000 skydiving jumps, he's a certified tandem instructor, performed over 760 BASE jumps and he's a certified tandem BASE instructor. Your enjoyment and more importantly, your safety is in great hands. 
Is a tandem BASE jump for you?
David says he deals with many different clients, young and old. Some of his clients are looking for a one-off experience, and others are interested in learning the skill and seeking an introduction to the sport. Then there are those that start thinking it's going to be a one-time thing and wind up hooked for life. No matter where you land in the BASE jumping spectrum, Dave is happy to help you out.
BASE Jump The Bridge is booking tandem jumps for the season
BASE Jump The Bridge is booking tandem jumps for the season, which is scheduled to begin on April 20, 2023. 
You can learn more about BASE Jump The Bridge, review pricing, read reviews, see more pics, and find contact information to book your jump at the BASE jump The Bridge website. 
CANDID CAMERA: Can You Find Yourself in These Google Street View Pics in Twin Falls?
Google caught photos of some of you around Twin Falls going about your daily business. It found some of you strolling down Main Street, eating some great food on Blue Lakes, and parachute packers at the Perrine Bridge.
Take a look and let us know if Google Street View snapped a shot of you in any of these pics.