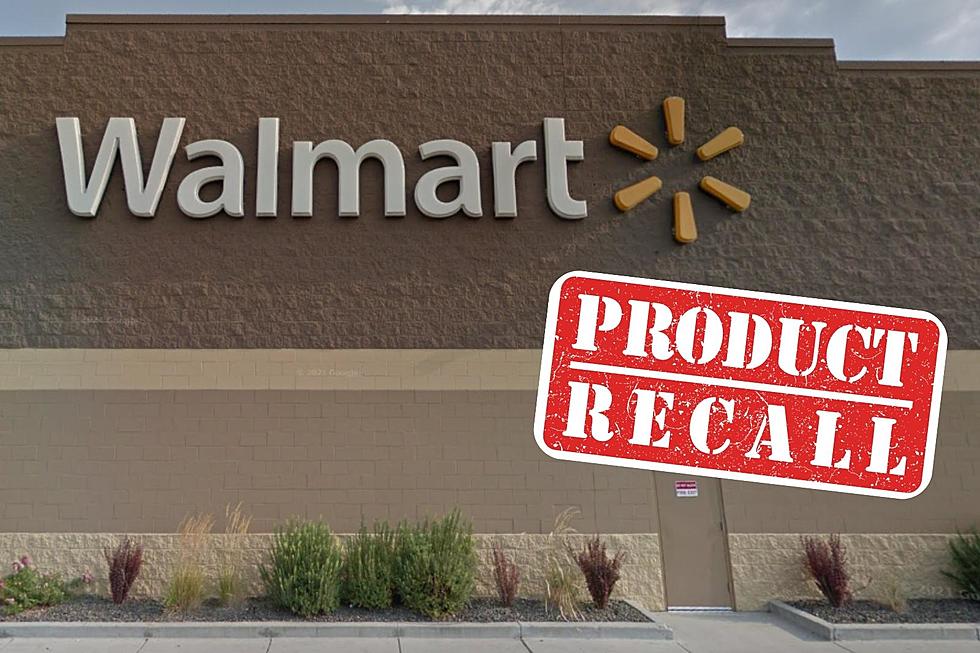 New Recall Includes Popular Fruit Sold at Walmart in Idaho, Utah and Oregon
Google Maps/Canva
Check your freezers! A product sold at Walmart stores across Idaho has been recalled due to possible Hepatitis A contamination. 
As the weather continues to heat up in Idaho, people are hosting barbeques, pool parties, and summer gatherings. Fruit salads are a popular side dish for these get-togethers, but the FDA is warning you NOT to use certain varieties of frozen fruit sold at Idaho Walmart stores to make them. Earlier this week, Oregon-based Willamette Valley Fruit Co. issued a voluntary recall of three varieties of their Great Value branded frozen fruit products sold between January 24 and June 8. The possibly contaminated fruit was also sold in five neighboring state: Utah, Oregon, Nevada, Montana and Wyoming.
According to the recall page, the company might be based in Oregon but the strawberries inside the bags are grown in Mexico. While no illnesses have been reported yet, but the company has reason to believe that Hepatitis A contamination may have occurred and decided to pull the products from shelves to be safe. The products affected are:
Great Value Sliced Strawberries
Lot 4018305, Best by: 7-19-24 

Lot 4019305, Best by: 7-20-24
Great Value Mixed Fruit
Lot 4024205, Best by: 8-3-24

Lot 4025305, Best by: 8-4-24

Lot 4032305, Best by: 8-5-24
Great Value Antioxidant Fruit Blend
Lot 4032305, Best by: 8-2-24
What Should I Do With My Recalled Fruit?
No one likes throwing food they spent money on in the trash, but the FDA says you should do exactly that. If you would like your money back, you can return it to the store for a refund. You will only be issued a refund if you have a bag of fruit with the codes listed above. 
How Dangerous is Hepatitis A?
Hepatitis A is a viral disease that CAN be transmitted through contaminated food and water, but the CDC says that it's more often contracted through person-to-person contact. Normally, the groups most at risk are people using drugs, the homeless population, men engaging in sexual activity with other men, those who are or were currently in jail and people with chronic liver disease. Those groups are encouraged to get the Hepatitis A vaccine. 
Those who've been infected may experience:
Fever

Fatigue

Loss of appetite

Nausea

Vomiting

Abdominal pain

Dark Urine

Diarrhea

Clay-colored stool

Joint pain

Jaundice

Loss of liver function (in rare cases)
The CDC explains that symptoms can last up to two months in most cases or up to six in prolonged cases. Those symptoms usually manifest 15-50 days after exposure. 
Idaho experienced its last public outbreak from January 1, 2019-November 1, 2020. During the outbreak, 77 cases of Hepatitis A were reported. 39 people were hospitalized, but no one in Idaho died. Recent outbreaks in Utah and Washington State killed three and nine people, respectively.
LOOK: 11 Things You Should Never Leave in Your Car on a Hot Idaho Day
From fire hazards to burns, there are good reasons why these things should NEVER be left in your vehicle on a hot summer day in Idaho.
KEEP READING: 5 of the World's Most Deadly Insects Are in Idaho Right Now
Field & Stream, an outdoor publication that's been around for more than 125 years, put together a list of the most deadly insects (and arachnids, they admitted to being "taxonomically laid back" in their article) in the world. Five of them can be found in Idaho!
Highly Toxic Plants You Should Definitely Try to Avoid in Idaho
According to a pamphlet from the United States Forest Service there are more than 20 poisonous plants in Idaho. These are some of the nastiest ones around.