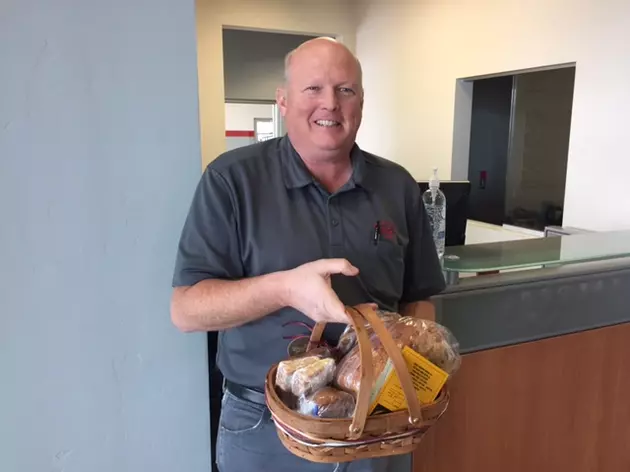 This Weeks Morning Show Munchies Winner
Photo Credit Jaci Walker
Congratulations to Kevin and the rest of the staff at Wills Toyota Service Department!  They won a bunch of goodies from Great Harvest Bread Company!
This month at Great Harvest Bread Company they know it's cold and flu season.  They have some delicious all natural and wholesome soups available at the bakery that make excellent "Get Well" dinners.
They also have fresh baked wholesome bread that makes a great comfort food meal when those you love are feeling under the weather.
This month Great Harvest is focusing on EATING HEALTHY WITH WHOLE GRAINS! Did you know that a diet high in whole grains consumption can help with things like:
* Lowering Cholesterol
* Regulating blood sugar
* Decreased risk of heart disease
* Reduction of inflammation
* Reduced blood pressure
* Healthier teeth and gums
* Reduced risk of colon cancer
* And MUCH MORE!
Great Harvest has some healthy bread choices at the bakery that are full of whole grains like our Honey Whole Wheat (made from whole fresh ground flour!), the Dakota (topped with nutrition nuts and seeds), the 9 Grain, and the Raisin Cinnamon! Stop in and try their wholesome, whole grain breads and combine them with your favorite healthy salad or a hearty turkey sandwich.
Great Harvest is located at 727 Blue Lakes Blvd in the Fred Meyer Complex.
They are open Monday through Friday from 7am to 6pm and on Saturday from 7am to 4pm.