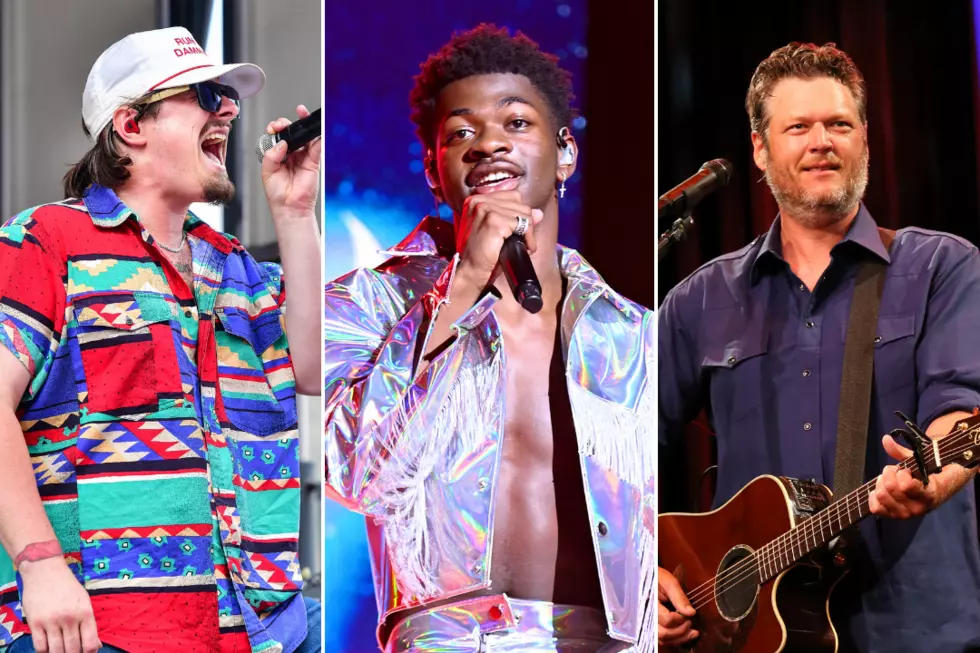 Hardy, Blake Shelton Defend 'Old Town Road' Line in New Song 'Hell Right'
Getty Images (3)
The internet raised hell over a line in Blake Shelton's new single, "Hell Right," following the song's release on Friday (Aug. 16). In the first verse, Shelton sings, "Then the girl from the small town took off the "Old Town" / Put on a little Hank Jr.," nodding to this year's massive hit from rapper Lil Nas X. Plenty of listeners have taken the lyric to be a swipe at the Billboard Hot 100 record-setter, but both Shelton and one of the song's writers, Hardy, maintain that's not the case.
"I didn't really think people were gonna freak about that so bad," Hardy admitted to The Boot backstage at Tailgate Fest 2019 in Eastvale, Calif., on Sunday (Aug. 18), just two days after the song's release. "[Co-writers David Garcia and Brett Tyler and I] just kind of did it as a paying homage to Hank Jr. I mean, you coulda said 'took off the' whoever."
Hardy says the inclusion of "Old Town Road" in that line was more a matter of timing: "It's the song that they're playing the crap out of, and it's this new, fresh thing," he explains, later sharing that the song was written in May. "But people are pissed."
The criticism isn't particularly fazing Hardy, however. "In the room that day, we were like, 'Hell yeah,' and I'm still like, 'Hell yeah,'" he says.
"Whatever, dude, I don't know, just get mad if you want, but I think it's a cool line," Hardy adds, "and I'm sticking to that, always."
To Variety, a spokesperson for Shelton says the singer and his longtime friend and collaborator on the song, Trace Adkins, are "absolutely not throwing any kind of shade at Lil Nas X at all."
"Blake says this literally has nothing to do with anything at all except how much the song is played. It could have been [Billy Ray Cyrus' '90s megahit] "Achy Breaky Heart" or any other (overplayed) song."
Coincidentally, Cyrus is part of the original "Old Town Road" remix with Lil Nas X. Shelton's spokesperson tells Variety that Shelton and Cyrus have spoken about the line, "and [Cyrus] thought it was funny."
Nonetheless, Lil Nas X himself had some thoughts about "Hell Right." In a since-deleted tweet, captured by Entertainment Tonight, the rapper retweeted Variety's story about Shelton's comments with a comment of his own: "It don't slap like old town road tho."
"Hell Right" is Shelton's second consecutive single to be co-written by Hardy. The songwriter and artist co-wrote Shelton's most recent No. 1 hit, "God's Country," with Devin Dawson and Jordan Schmidt.
Country Music's Biggest Feuds
Move Over, Adam Levine! Trace Adkins Is Blake Shelton's Original Bromance