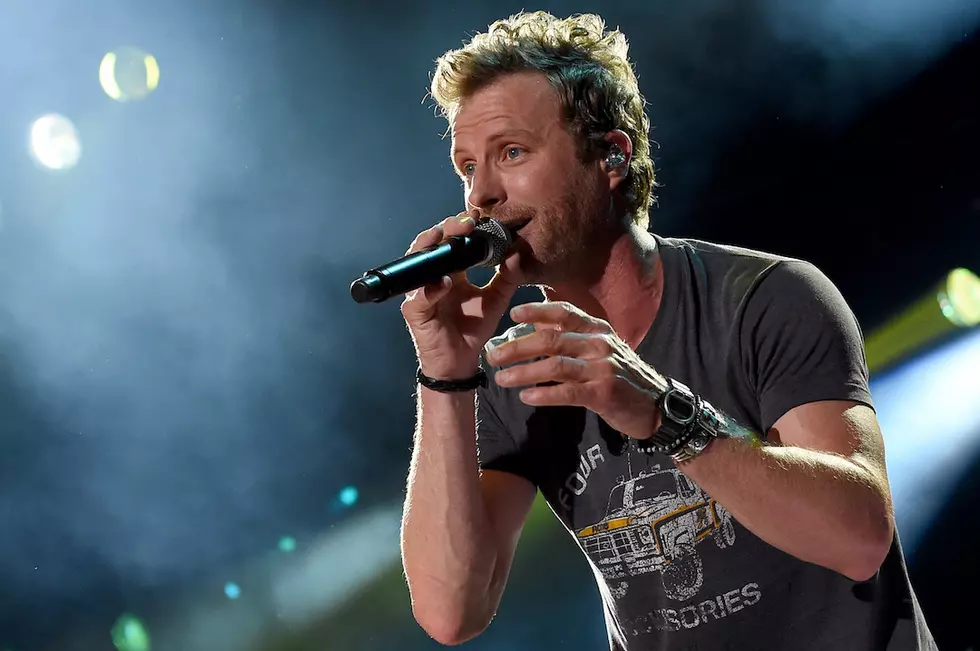 Dierks Bentley, 'What the Hell Did I Say' [Listen]
Getty Images
Dierks Bentley's new single "What the Hell Did I Say" is a variation on the good-time, throw-responsibility-to-the-wind, party song he's been leaning on for a couple years. It's subtly darker.
Maybe the words on paper capture that same WTF experience of hits like "Drunk on a Plane" and its sister song "Somewhere on a Beach." This new single from Black is tinged with regret barely present previously. The arrangement matches by presenting a guitar experience that recalls a dream sequence and a very sobering rhythm section. "What the Hell Did I Say" is less celebration and more hangover.
Ross Copperman, Josh Kear and Chris Tompkins wrote this song, cleverly making verbs out of famous proper nouns and promises. Bentley's performance is surprisingly convincing for a married father of three — actually, that's an amusing lens through which to listen to "What the Hell Did I Say." Perhaps the story is a married man over-promising to his wife only to wake up wondering how his late-night texts are going to affect his wallet.
Did You Know?: From time to time Bentley has opened his own What the Hell Tour incognito as the lead singer of the Bolo Boys Bluegrass Band, which is just him and his bandmates in disguise.
Listen to Dierks Bentley, "What the Hell Did I Say" 
The Top 10 Songs of 2017, So Far
Dierks Bentley's "What the Hell Did I Say" Lyrics:
Woke up this morning with my cellphone ringing / She said I know that when you called me, you were drinking / But I loved every single word you left on my phone / And I know you're hungover but I'm coming on over / Did I say we'd go shopping / That I'd Louis Vuitton her / That I'd Rodeo Drive her / Slide a Tiffany diamond on her.
Chorus:
What the hell did I say when I called last night / Dripping loads of whiskey honey in that message that she liked / What the hell did I say / Gotta dial it up again / I'm writing out those lines that fell out drunk at 3 AM / What the hell did I, hell did I, hell did I say / What the hell did I, hell did I, hell did I say.
Last thing I remember, I was thinking I'd call her up / And put her on speaker while the whole bar sang Free Bird / Had that phone in my hand when I ran into trouble / My friend coming over with a couple of doubles.
Did I tell her she could move in and we'd fly out to Vegas / Champagne all the way and we'd get married by Elvis.