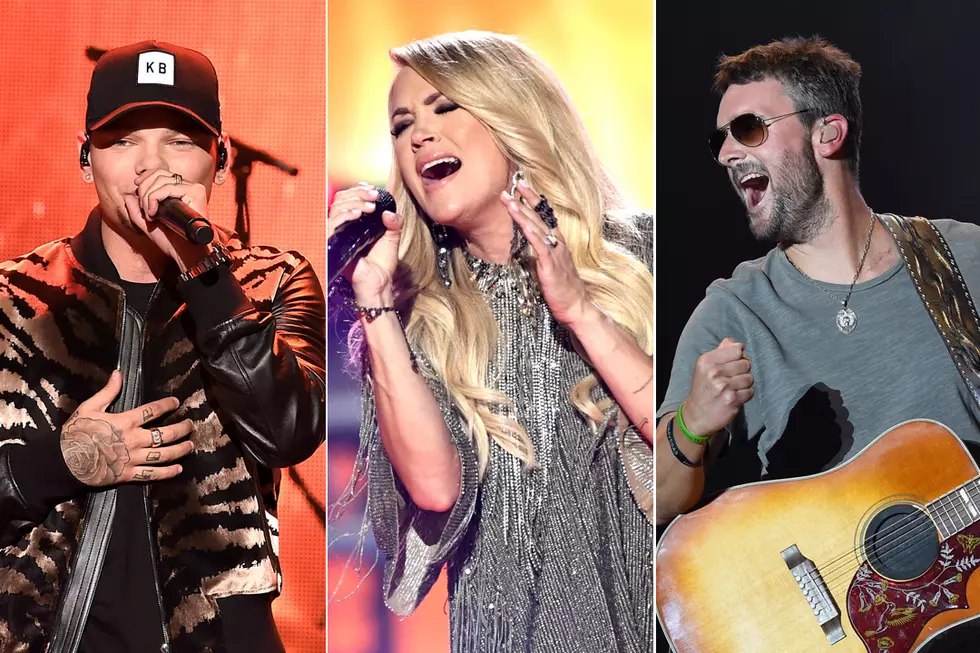 Which Country Star Should Play the Super Bowl Halftime Show?
Kevin Winter (2) / Rick Diamond, Getty Images
It has been a remarkable 16 years since a country artist performed during the Super Bowl Halftime Show.
More than a handful of the genre's biggest acts have had the honor of the National Anthem — Luke Bryan (2017), Charley Pride (1974), Garth Brooks (1993), Faith Hill (2000), the Dixie Chicks (2004) and Carrie Underwood (2010), to name a few — and Hill sang "America, the Beautiful" in 2009, as did Blake Shelton and Miranda Lambert in 2012. But with such a huge country music fanbase in the U.S., it's hard to fathom why a country artist hasn't commanded the field for the halftime concert in nearly two decades.
Shania Twain was the last country artist to perform the halftime show, and she did so in 2003. For her big gig, she sang "Man! I Feel Like a Woman!" and "Up!" during a set that also featured No Doubt and Sting. Before that, in 1990, Doug Kershaw was part of a halftime lineup that included Pete Fountain, Irma Thomas, the Nicholls State University marching band, the Southern University marching band and the USL marching band. Four years later, in 1994, the halftime show went country once again with Clint Black, Tanya Tucker, Travis Tritt and the Judds, who performed "Tuckered Out," "It's a Little Too Late," "T-R-O-U-B-L-E," "No One Else on Earth" and "Love Can Build a Bridge."
Maroon 5 are set to perform the Super Bowl halftime show on Feb. 3, 2019, at Mercedes-Benz Stadium in Atlanta, joined by Big Boi from Outkast and Travis Scott. The news got us thinking: which country artists could command a halftime show of their own? We want to know what you think!
Garth Brooks has a peerless catalog of hits, and he knows how to work a huge crowd better than anyone else in country music. On the other hand, Eric Church could bring an edgy outlaw attitude to the proceedings, while a younger, more progressive artist like Kane Brown could be a signal for how much country music is changing.
Who would you like to see perform the halftime show at the Super Bowl? Vote in our poll below, or suggest another favorite we might have missed in the comments section below!
Do You Know Which Country Stars Played Football?