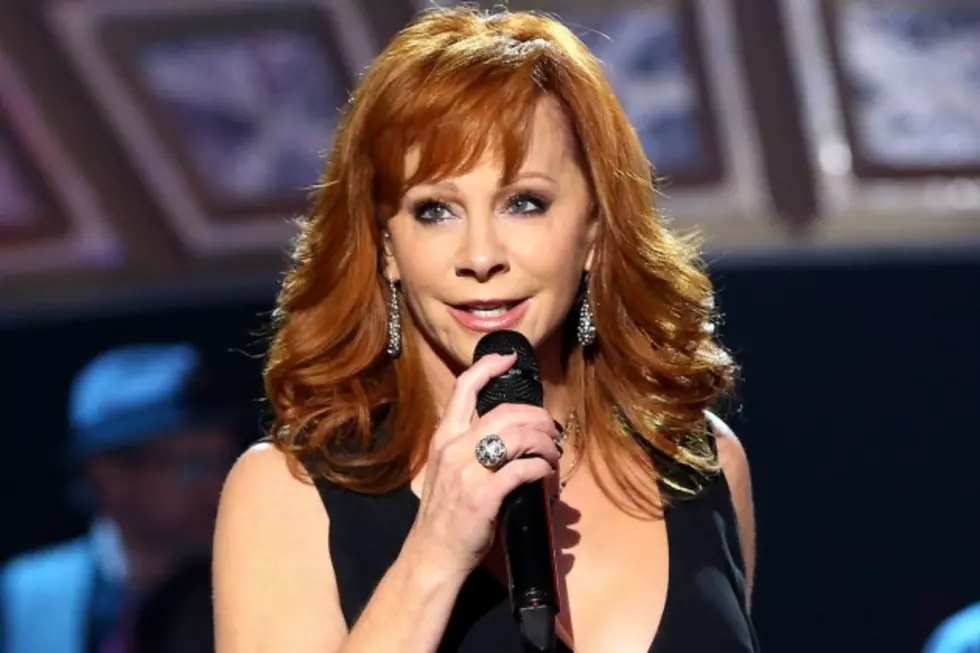 Top 10 Reba McEntire Music Videos
Jonathan Leibson, Getty Images
Reba McEntire's impact on country music is felt not only in her No. 1 songs, but also in her state-of-the-art music videos.
It could be argued that McEntire's music videos largely transformed her career. In many of her clips, the singer is portrayed as strong, thoughtful and decisive -- and she also shows off her acting talent by playing an older woman, a young Navy member and a Peace Corps volunteer. McEntire was one of the first country stars to continually call on big-name actors and celebrities to co-star in her music videos, garnering a large audience. Clip by clip and song by song, she built a career that turned her into a legend.
The following are The Boot's picks for the Top 10 McEntire music videos.
10

"The Night the Lights Went Out in Georgia"

As fans know, "The Night the Lights Went Out in Georgia" is a song full of grisly murder, sexual infidelity, the end of a friendship and a hanged innocent man. In the music video, McEntire plays the role of the sister -- the narrator of the song -- and fans may be surprised at her appearance: Through some creative makeup and costuming, she looks like she's quite elderly. The clip includes spoken dialogue that expands on the song's plot, and it turns the tune into even more of a twisting, turning and shocking mystery.

9

"What Am I Gonna Do About You"

Golden Globe-winning actor David Keith plays McEntire's love interest in the video for this heart-wrenching ballad. It chronicles the journey a woman must take when her lover is no longer there (it's not clear whether he's passed away or simply left), and the lyrics -- "Oh, your memory keeps coming back from out of the blue / Oh, well, I try and I try, but I still can't believe that we're through" -- are truly brought to life in the music video. McEntire is wistful and pondering, plunging ahead with life even as memories of picnicking in the park, long walks and cuddling appear at every turn. The song is the title track of McEntire's 1986 album, and it peaked at No. 1 in 1987.

8

McEntire decided to do something a little different and head into the Guatemalan jungle to shoot her "And Still" music video. She was warned about confrontations with banditos, hijackers and guerrillas, yet she defied fear and went anyway -- with her then-husband, Narvel Blackstock, in tow.

"It got kind of scary, pretty hairy," she admits.

But the result? A touching music video with beautiful scenery and people -- and a really interesting storyline. In addition to the Guatemalan people, the video stars McEntire as a former Peace Corps volunteer who had met another volunteer, played by actor Mark Derwin, almost two decades prior. The two connect, and sparks seem to be flying -- until McEntire is introduced to his wife and son. It's a unique video concept with an incredibly captivating video location -- and the children in the clip will capture every viewer's heart.

7

"Whoever's in New England"

"Whoever's in New England" is considered one of McEntire's breakthrough songs, and the music video was the first of her career; it also garnered an ACM Award for Video of the Year. Filmed in Boston, the video dropped in 1986 and immediately proved to the country world that McEntire can sing and act. It shows McEntire sitting at home while her husband is off on business -- again -- in New England, and suspicions run across her face as he leaves. The video gives viewers a look into his affair with a business colleague as they dine by candlelight, have flirtatious snowball fights and light up in one another's presence. Thankfully, the video has a happy ending for McEntire ... but not for the woman on the East Coast.

6

Life can contain many circumstances that will leave you speechless, struggling with how to respond, and McEntire's "What Do You Say" music video encapsulates a few of these instances. It focuses on one specific family but features different times where the question of "What is that?" or "Why?" leaves you hanging: One scene features a young boy asking his dad to explain a XXX video store as they drive past; another shows a young daughter asking her mother to come to her rescue while at a party full of underage drinkers; and finally, the clincher, involves the mom struggling with cancer, fear etched into the faces of her children and husband. McEntire is only in the video for a few seconds, letting the family's real-life struggles especially hit home.

5

"The Heart Won't Lie" is a perfect pairing of two of country's biggest stars, McEntire and Vince Gill, and the Jon Small-directed music video required them both to use their acting chops. McEntire plays a Navy member, while Gill is a tough commander. Even though he is just as hard (or harder) on her as the other women as they run, do push-ups and train, there's no denying the chemistry between the two; the heart simply won't lie. It's a whole lot of fun to see McEntire and Gill play out their parts -- and share a sweet relationship even amidst the struggles of being in the U.S. Navy. It was a grueling four-day video shoot, but well worth the effort.

4

"Is There Life Out There"

"Is There Life Out There" nabbed an ACM Award for Video of the Year; it was one of the first videos in country music to feature a large amount of dialogue, prompting both praise and criticism. The mid-tempo song features a female protagonist who married at age 20, and in the video, McEntire plays a woman named Maggie O'Connor, a Jill-of-all-trades, juggling a career (as a waitress), courses at a local university and family with her husband and two kids. The question of wondering "is there life out there?" is felt throughout the music video as she works for a better life for herself and her family.

3

"Does He Love You" is one of the most-awarded songs of McEntire's career and her 18th No. 1 hit -- and it's easy to see (and hear) why. Linda Davis duets with the redhead on the song, one of the most poignant tunes in country music, delving into the topic of a love triangle. McEntire plays the man's wife, while Davis is in the role of his mistress, and the video hits the nail on the head, capturing the tension between McEntire, her husband and Davis, as well as the deep love that both women feel for the same man. It's a thought-provoking clip that features both singers gussied up to the nines but feeling utterly broken inside while wondering if their man loves the other woman more. The real shocker happens at the end, along with some much-needed comedic relief.

2

After watching the ultimate tear-jerker movie, P.S. I Love You, McEntire was inspired to write "Somebody's Chelsea" -- if that gives you any idea of how many Kleenex you need to watch this music video. Ed Asner stars as the widowed elderly man in McEntire's clip; he and McEntire sit next to one another on a plane, and he begins telling her his story -- a love story between him and his wife, Chelsea -- while the lyrics from the country star's song do most of the narrating. Much of the video features black-and-white clips of the older couple in their early years and shows McEntire sitting alone in a booth with a glass of wine, longing to be loved like Chelsea. Much to viewers' delight, the ending of the music video alludes to a happy -- and romantic -- ending for McEntire. Cue the tissues and happy tears!

1

In McEntire's "Fancy" video, she plays the character Fancy Rae Baker, a singer and actress who has found fame and fortune -- but came from a run-down shack on the outskirts of New Orleans. The video opens with McEntire in the backseat of a taxi cab, which eventually stops in front of an abandoned shack -- the childhood home of Fancy. Throughout the video, flashbacks of Fancy's childhood play in her mind, including the pivotal moment when her mother dressed her 18-year-old daughter up and sent her out in the world to make something of herself. It's the ultimate display of a mother's unconditional love and big dreams for her daughter -- even if it brings pain to herself and her child.