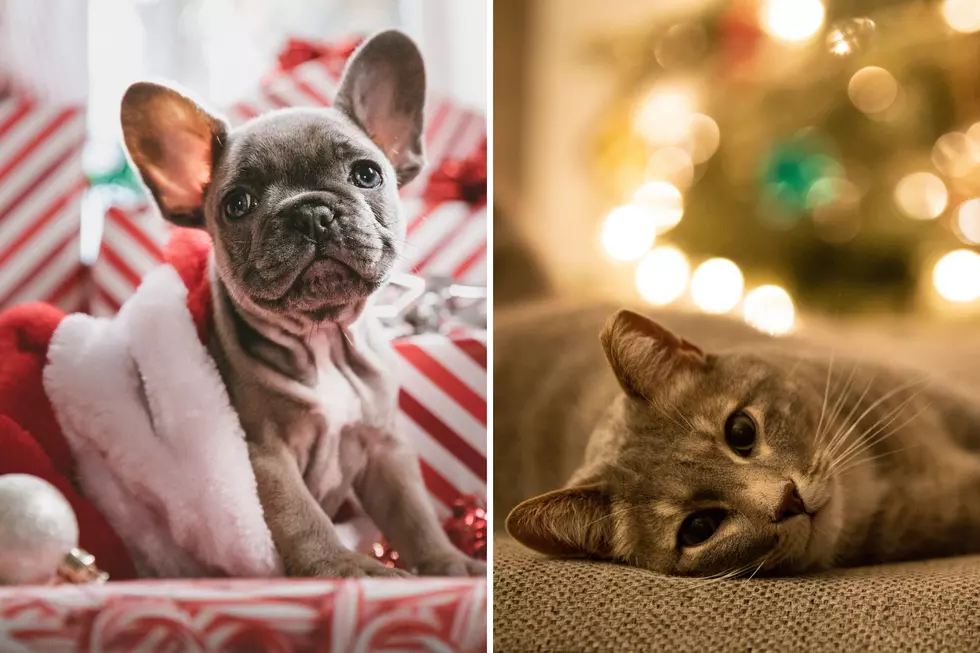 WINNER: The Most Festive Entry In The Christmas Pet Photo Contest
Photo by Jakob Owens/Andrew Mead on Unsplash and Canva Template
This year we had more than 100 fantastic photo entries in the Valley View Veterinary Clinic Christmas Pet Photo Contest. There was definitely enough Christmas cheer in these photos to keep Santa and his sleigh fueled for the entire season.
2022 Christmas Pet Photo Winners Announced
After an entire week of intense voting, the winner of the 2022 Valley View Veterinary Clinic Christmas Pet Photo Contest is the adorable dog, Whinnie with nearly 37 percent of the votes! Second place went to the goats, Kiddie and Jessie, and third place was the donkey duo. Congrats to the winners and thanks for spreading joy with these photos.
Below this point is the original story with references to voting. The voting period has ended, but you can still see the pictures of the finalists.
Which Pet Will Get Your Vote?
We took photo submissions for 2 weeks and the entries did not disappoint. We had birds, farm animals, dogs, and cats showing their festive attitudes. We also had quite a few that clearly were not feeling the Christmas spirit yet. Check out the 12 finalists in the gallery below and make sure you vote for your favorite every day. That's right, you can vote each day to guarantee that your favorite wins the prize.
Speaking of the prizes, here's what the winners get:
1st place: $200 Valley Country Store gift card
2nd place: $100 Rock Creek restaurant gift card
3rd place: $50 Rock Creek restaurant gift card
Now to the voting. Scroll through the gallery and then vote for the best at the end.
Vote For The Christmas Pet Photo Contest Winner
This year we had more than 100 great entries into the contest and we have it narrowed down now to the top 12 for you to vote on. Check out all the festive pets and vote for your favorite at the bottom. Merry Christmas!
The Christmas Pet Photo Contest is sponsored by Valley View Veterinary Clinic. To schedule an appointment for your small animal, bovine, equine, or other animals, call Valley View Veterinary Clinic at 208-734-7966. A mixed animal clinic, they provide general, affordable veterinary care for both small and large animals.
Contest Rules
Voting begins on December 16, 2022 and ends at midnight on December 23rd.
The winner will be announced after Christmas, 2022.
LOOK: See what Christmas was like the year you were born