Mary Chapin Carpenter Announces Fall Orchestral and Acoustic Tour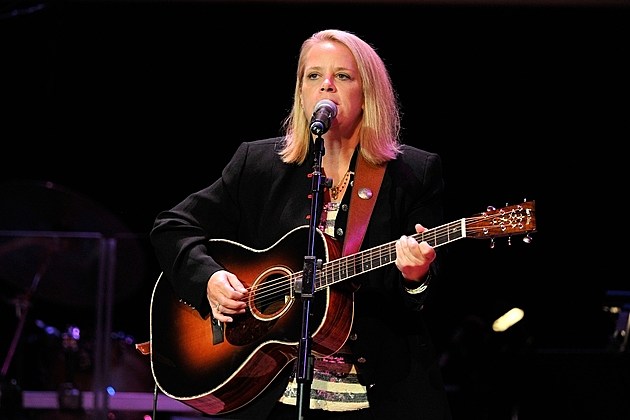 Mary Chapin Carpenter will have a busy — and diverse — fall. The songstress will embark on both an orchestral and an acoustic tour, crossing the country for a series of shows that will run through November.
Carpenter will perform her acoustic shows with pianist Jon Carroll and multi-instrumentalist John Doyle, with Tift Merritt serving as her opening act.
In addition, the New Jersey native will continue performing her orchestral concerts, singing songs from her 'Songs From the Movie' record, which was released in January. The project, which was recorded at Air Studios in London, features Carpenter's take on some of her most beloved tunes, under the direction of famed conductor Victor Mendoza.
Carpenter, who kicked off her orchestral tour last year, says the entire project has been a labor of love.
"The rehearsals are as physically challenging and mentally difficult as the show, in the sense that there's a lot of time spent on rehearsal, and you have to work very, very, very hard to get it going," she tells The Boot. "It's been one of the great experiences of my life to be able to present this music in this way. Every night that I get to sing with these amazing orchestras and follow the baton of Maestro Mendoza is an honor and something I'll never forget."
See a list of all of her upcoming shows below.
Mary Chapin Carpenter Orchestral Tour Dates:
Sept. 21 — New Albany, Ohio — Jeanne B. McCoy Community Center (with the New Albany Symphony Orchestra)
Sept. 29 — London, UK — Royal Albert Hall (with The London Concert and special guest Benjamin Scheuer)
Sept. 30 — Gateshead, UK — The Sage Gateshead (with Royal Northern Sinfonia and special guest Benjamin Scheuer)
Oct. 1 — Manchester, UK — Bridgewater Hall (with Manchester Camerata and special guest Benjamin Scheuer)
Oct. 2 — Edinburgh, UK — Usher Hall (with The Festival Orchestra and special guest Benjamin Scheuer)
Mary Chapin Carpenter Acoustic Tour Dates:
Oct. 10 — Santa Barbara, Calif. — Lobero Theatre
Oct. 11 — Thousand Oaks, Calif. — Fred Kavli Theatre
Oct. 12 — Cerritos, Calif. — Cerritos Center for the Arts
Oct. 14 and 15 — Berkeley, Calif. — Freight & Salvage
Oct. 16 — Chico, Calif. — Laxon Auditorium
Oct. 22 — Westbury, N.Y. — The Space at Westbury
Oct. 23 — Tarrytown, N.Y. — Tarrytown Music Hall
Oct. 24 — Northampton, Mass. — Calvin Theatre
Oct. 25 — Hartford, Conn. — Infinity Hall
Oct. 26 — Lebanon, N.H. — Lebanon Opera House
Nov. 7 — Clearwater, Fla. — Capitol Theatre
Nov. 8 — Melbourne, Fla. — King Center )
Nov. 9 — Jacksonville, Fla. — Florida Theatre
Nov. 10 — Newberry, S.C. — Newberry Opera House
Nov. 11 — Durham, S.C. — Carolina Theater
Nov. 13 — Florence, S.C. — Francis Marion Performing Arts Center
Nov. 15 — Bristol, Tenn. — Paramount Center for the Arts
Nov. 18 — Wilmington, De. — Grand Opera House
Nov. 19 — Ridgefield, Conn. — Ridgefield Playhouse
Nov. 20 — West Long Branch, N.J. — Pollack Theatre
Nov. 21-22 — Rockport, Mass. — Shalin Liu Performance Center
NEXT: Why Are There So Few Women at Country Radio?

Source:
Mary Chapin Carpenter Announces Fall Orchestral and Acoustic Tour