Body Found Near Jackpot Possible Domestic Dispute Victim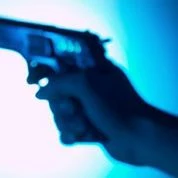 JACKPOT, Nev. (AP) — Elko County Undersheriff Clair Morris says a homicide victim found last month about 3 miles south of Jackpot may have been killed in a domestic dispute. Detectives originally suspected 26-year-old Leopoldo Filverio-Martinez of Guajara, Mexico had been murdered by members of a Mexican drug cartel when his body was found Feb. 3 with four gunshot wounds to the chest.
But Morris tells the Elko Daily Free Press  investigators learned Filverio-Martinez had been involved in a fight with an unknown person over a woman before his body apparently was dumped along a dirt road off U.S. Highway 93. The victim worked at a dairy farm in Gooding, Idaho. He had purchased a vehicle from a co-worker who is missing. Authorities are looking for the 1996 Ford Windstar with Idaho plates.